Meine Faire Dame - Ein Sprachlabor (My Fair Lady - A Language Laboratory)

Theater Basel
Lowland Hall
–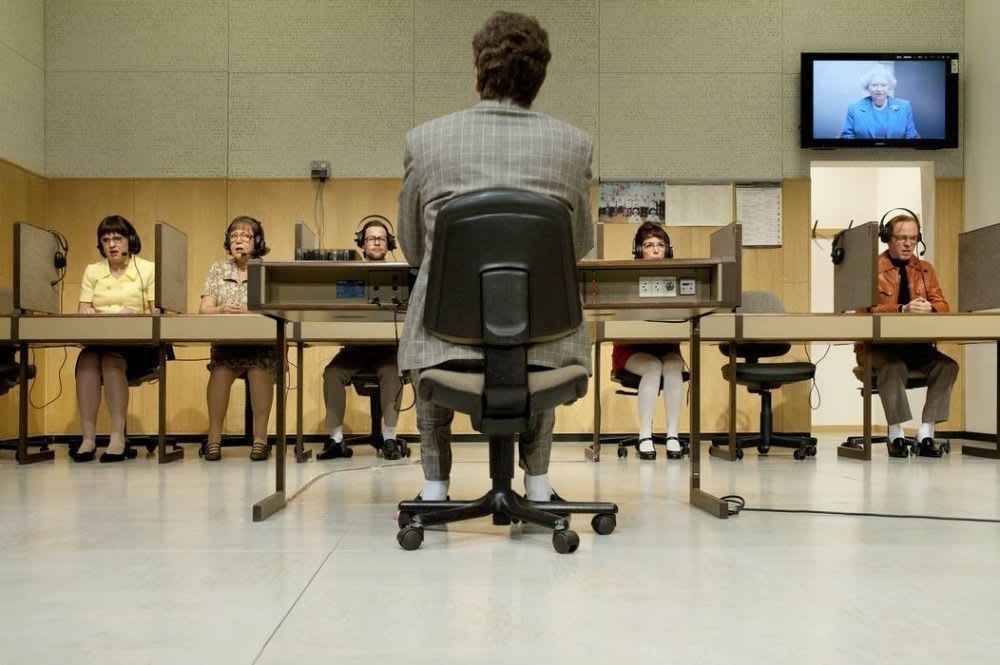 Musical theatre lovers travelling out of town in the hope of seeing a joyous reworking of the much-loved Lerner and Loewe musical / movie, featuring Germanic equivalents to Audrey Hepburn and Rex Harrison telling the Pygmalion story in song, will be sorely disappointed.
Instead, Swiss director Christoph Marthaler has deconstructed My Fair Lady and, in artistic terms, what he has put in its place might be likened to extreme Surrealism or Picasso far into his cubist phase.
In other words, without the title and the programme it would be almost impossible to guess at the source of this musical reverie.
The performance takes place in a large language laboratory circa 1970s judging by the costumes. There, an Englishman named Henry Higgins teaches elocution, but at other times his German counterparts do the same for their own language. If there is an Eliza Doolittle, this is well hidden.
Key elements are two keyboards, one a traditional piano played by a long-haired maestro (Bendix Dethleffsen), the other an electronic organ under the hands of a Frankenstein (Mihai Grigoriu) of basketball star proportions.
They are accompanied by high quality operatic singers, who also turn their hand (or more appropriately voices) to other genres.
The music and lyrics are varied to say the least and don't always fit together. There is everything from Parsifal and The Magic Flute to Wham's Last Christmas and Lucille by Kenny Rogers.
The singing is accompanied by long pieces of physical theatre, usually aimed at provoking amusement at the expense of the group of misfits who attend the language school.
The connections with Shaw are at best tenuous, though a few of the lyrics and even an occasional tune from the musical are dropped in. This means that Meine Faire Dame - Ein Sprachlabor tends to feel like an in-joke with the paying public not let into the secret.
The confection can be fun but has no obvious narrative running through it, leaving the audience to enjoy as best they can a series of small musical events and their associated visual puns.
Reviewer: Philip Fisher