Memoirs of An Asian Football Casual
Adapted by Dougal Irvine from the book by Riaz Khan
Curve Theatre
Curve Theatre, Leicester
–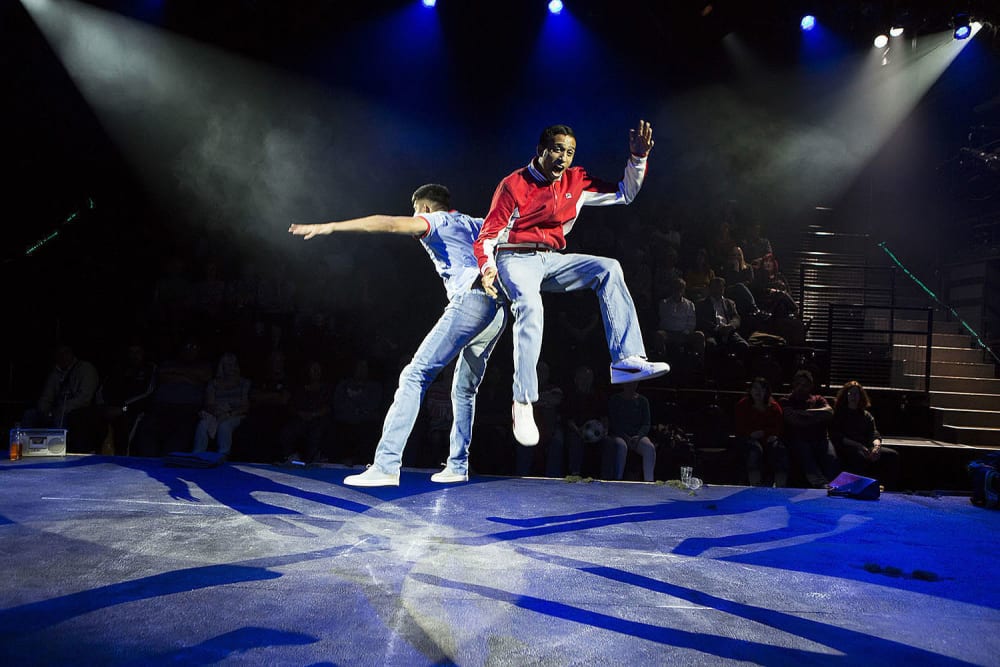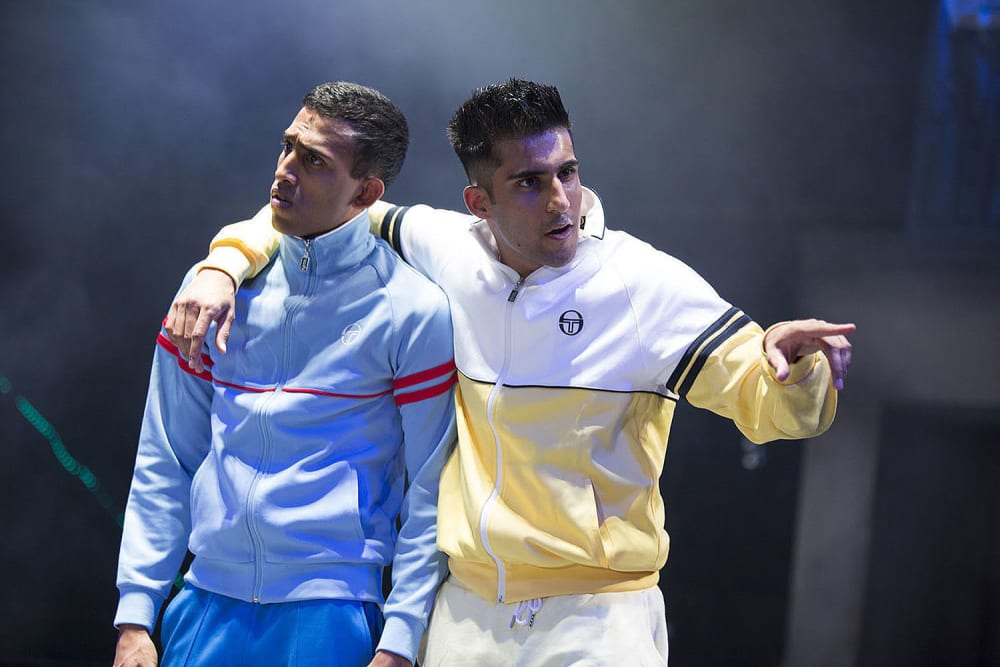 After seeing the various online theatrical offers, I was drawn to Leicester Curve Theatre's Memoirs of an Asian Football Casual, firstly because of my withdrawals from the beautiful game but also as I was intrigued to see a piece of theatre that would have otherwise passed me by.
Anyone who might have been put off this vibrant piece of theatre because of the connection to football should think again. This is a story less about 22 players kicking a ball around a pitch and more about adrenaline-fuelled fighting, hooliganism and trying to fit in. A no-holds-barred biography based on Riaz Khan's KHAN—Memoirs of an Asian Casual, Douglas Irvine's adaptation is on the whole a very strong piece of theatre.
This two-hander includes fantastically committed performances from Jay Varsani as Riaz himself and Hareet Deol as a countless collection of other characters. This is a post-Enoch Powell 'Rivers of Blood' world where racism is rife and growing up as a British Asian of Afghan and Pakistani descent is never easy. The production is full of violent stories and uncomfortable truths of what life was like in the '70s and 80s in Leicester.
Perhaps the most worrying aspect throughout the piece is that the rhetoric and racism encountered by Khan is not massively out of touch with what we are seeing today with the frightening rise of the far right across the globe. This makes this production so relevant to today and I couldn't help but be drawn to the young people watching in the audience and hoping that they valued and were willing to hold on to a much more tolerant society than the one presented here.
This is an interesting insight into a world of notorious football hooligan groups, from Leicester's Baby Squad to Chelsea's Headhunters. I found the stories of fighting less interesting than the passion that Riaz and his partner-in-crime Suf showed for the fashions of the day. Fila jackets and Stone Island jeans are worn with great pride and the clothes themselves become a symbol of belonging for every member of the 'casuals'.
The structure that follows Riaz's story takes us through his growing up, with different life stages signposted with "Who am I?" before morphing into that particular character. This works effectively, but even more so because of the energy and commitment shown by Varsani. His is a terrifically visceral performance and even on screen I could almost see the steam being emitted from his body as he threw himself around the stage. Deol is more than a supporting actor, playing female family members, National Front skinheads and Afro-Caribbean friends. His ability to transform from one role to the next is completely engaging and helps the pace of the story to carry on rolling without hitting too many bumps in the road.
Both performers are well supported by a collection of stunning designs. Grace Smart's traverse staging and football terrace set design immediately creates a football pitch stage with the performers often skipping over the advertising hoardings to be at one with the audience watching from the terraces. Tasha Taylor Johnson's sound design immediately paints a picture of the 1980s with a soundtrack of Bronski Beat and Michael Jackson, eerily punctuated by news recordings reporting on the Hillsborough disaster. Charlotte Burton's lighting design perhaps has the most impact as the rig moves about, creating a particularly memorable scene where Riaz and Suf's worlds almost come crashing down around them.
The show takes a strange turn towards the end—it's almost as though the rehearsal time ran out and we had to jump forward in time, as we moved from Riaz as a young man meeting the real Riaz Khan towards the end of the performance. Whilst the idea is an interesting one, this does feel a little forced and disrupts the flow of the performance as a whole.
There is no doubt, however, that this is well worth catching on the Curve theatre web site, where you can also donate something to help the theatre in this hour of real need for all those involved in the creative industry. It's fantastic that live theatre can be brought into people's homes in this way and this filmed performance manages to convey the vibrancy and energy that I am sure was present in the original live version.
(For those who are interested, Sally Jack reviewed the show back in 2018.)
Reviewer: John Johnson