Men Chase Women Choose
Sophie Giddens, Eve Shotton and Matt Holt
People Zoo Productions
Hope Mill, Manchester
–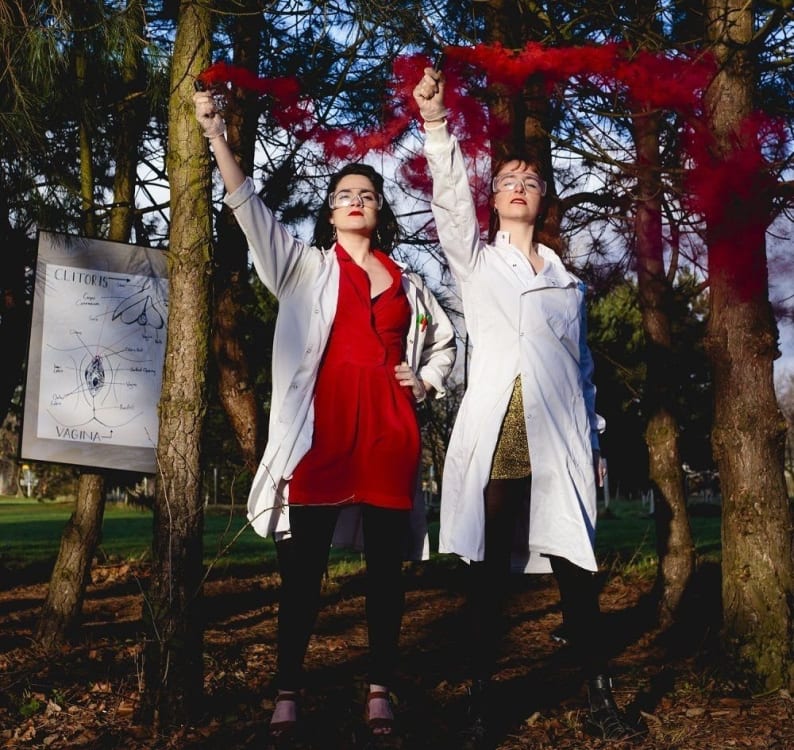 There seems to be some uncertainty as to how best to market Men Chase Women Choose (performed by Sophie Giddens and Eve Shotton and written by them along with Matt Holt). Although it is described as an absurd comedy sketch show, an overriding theme links the various components so successfully it can be considered a full theatrical production.
Giddens and Shotton are cast as students making a presentation, complete with visual aids, on the science behind our gender narratives that seeks to resolve the question "what is the point of women?". They are a classic mismatched couple in a number of ways. Giddens is a science student—hard-working, analytical, devoted to her subject and a bit of a swot. Shotton is studying the arts and is something of a slacker having either not done, or not understood, the research and so relying on her brash improvisations to cover up gaps in knowledge. Shotton is under the impression The Victorians are so-called because the entire generation descended from Queen Victoria. The differences go further with Giddens being shy and Shotton so randy it is necessary to play recordings of David Attenborough to damp down her ardour.
Director Kate Coogan exploits the chemistry between the actors to great effect. Initially, there is a hint of conflict between them with Giddens unable to resist correcting her partner's errors—pointing out the correct description of someone working in science is 'scientist' not 'science people' as Shotton insists. The gradual warming of relations between the pair is so successful, Giddens feels able to join in telling of Shotton's sexual history in the form of interpretative dance. Many of the comedic highpoints come from the cast slipping out of character—the restrained 'straight man' Giddens hesitantly telling a joke or angrily reciting a protest poem.
The concept of a lecture is taken seriously and the play really does challenge scientific theories, such as penis envy and synchronised menstrual cycles, which are now considered to be dubious. It is surprising how much of the factual information remains in the memory after the show. Were it not for the bawdy nature of the material, it might be a successful teaching aid.
Coogan sets an atmosphere with which the audience will be familiar. The cast adopt jolly, over the top or drily knowing tones as used in newsreels or documentaries. The use of a catchphrase 'Bad Science' brings back memories of factual programmes aimed at children. Clichés are not avoided but rather used to comedic effect—both of the characters at some point unconsciously exhibit the female traits that are being described in the lecture.
Self-indulgence is kept to a minimum (in retrospect it is hard to recall how the interpretative dance sequence is justified). There is some uncertainty as to how to draw the show to a close—a perfectly decent ending with a one-word punchline goes by and a series of political statements is used instead—which seems out of place in a show that has carefully stuck to scientific analysis.
Men Chase Women Choose is a hard show to categorise but it is very funny, surprisingly informative and features a pair of sparkling performances.
Reviewer: David Cunningham