Meow Meow's Little Mermaid
Meow Meow
The Hub
–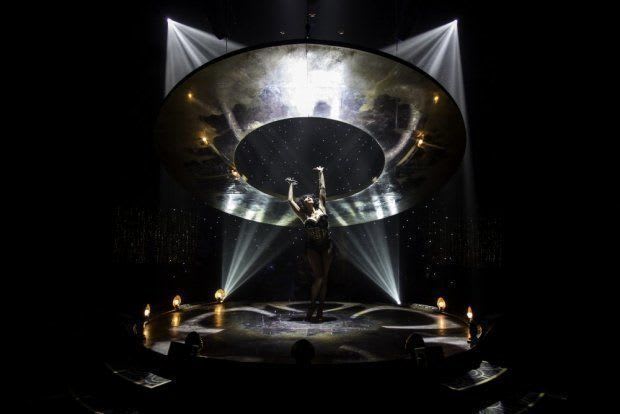 With around 3,500 different offerings, one of the pleasures of a long stint in Edinburgh is the opportunity to try out artists and genres that one would not dream of seeing in real life.
The Edinburgh International Festival may not have the bulk of the Fringe but it still have considerable variety with everything from modern and classical opera through dance and theatre to contemporary music and cabaret.
Meow Meow: The Little Mermaid is in the last category and fills the Hub's high-ceilinged performance space from 10:30 to midnight (actually 75 minutes starting fashionably late) with largely enthusiastic fans.
Cabaret should be an intoxicating mixture of theatre, performance, comedy but primarily music and that is what this Australian legend who looks like late era Joan Collins and attempts to amuse fans with material that brings to mind Dame Edna Everage sets out to deliver.
The singing is powerful, Meow Meow's deep voice hitting the back of the big room hard. Performance is another strength, with the artiste showing strength and acrobatic flexibility.
The theatre element is theoretically based on Hans Christian Andersen's timeless classic, although the connection goes little further than add-ons to the star's very tight costume and the sailor suits worn by her five-piece band. Her main theme is a search for love, sought in the audience and with a handy handyman who incongruously appears on stage on cue.
Comedy is a taste thing and some audience members at the performance under review were close to wetting themselves over material that was often hackneyed (the late Eric Morecambe's estate might like to claim some royalties) and generally aimed at a lowest common denominator. The acting lacks subtlety and tone can seem patronising, which may be no more than a technique to win over the high proportion of visitors who do not have English as a first language.
While this critic didn't get it, this is a popular show that makes devotees happy and if it sounds like your bag, Meow Meow: The Little Mermaid could be just the thing, though tickets may be hard to come by.
Reviewer: Philip Fisher