Merce Cunningham Dance Company Programme 1: Crises (1960); XOVER (2007/bite08); BIPED (1999/bite00)

Barbican Theatre
(2008)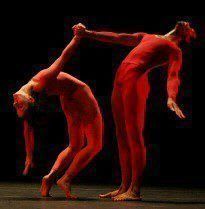 What is there left but to celebrate the great innovator in his 90th year (90 next April)
Merce Cunningham's longevity, his work ethic (over 200 choreographic works); his famous long-term collaborations with John Cage, Robert Rauschenberg, and Jasper Johns; his espousal of technology, the computer choreographic software Life Forms (now called DanceForms) and Motion Capture; his work in film and video with Charles Atlas and Elliot Caplan (which can be seen 4th October in an intensive Cunningham day at the Barbican cinema); and his enduring love of movement for its own sake, invite standing ovations for the beatific elfin man in the wheelchair.
And still he choreographs - sculpting in time.
As part of bite's 10th anniversary and Dance Umbrella's 30th birthday celebrations, his Dance Company return to the Barbican for the sixth time with two programmes of work (three performances of programme one, and two only of programme two) which include a new bite co-commission, XOVER, sandwiched between reprisals of two previous bite co-commissions, and a revival of an early work.
Programme One kicks off with the revival (staged by Carolyn Brown and Carol Teitelbaum, lit by Megan Byrne), and UK premiere, of the1960 Crises. Five dancers in vivid shades of red, orange and yellow - the Robert Rauschenberg-costumed figures paint splashes against a black backcloth - ignore and deflect Conlon Nancarrow's jaggedly repetitive Rhythm Studies for Player Piano with their hint of ragtime syncopation.
Witty, self-contained, the regal women pairing off, circling the man, the man, martial and macho, controlling the woman, all showing off like children in a playground with joyful pleasure in their arabesques and attitudes until the music grows more insistent, notes waging battle with notes, and the dancers become more poised and composed. Not bound by the music (Cunningham's theory of chance), the dancers function in their own space and time, yet, unusually for Cunningham, a narrative is signaled, not least by the title.
XOVER (pronounced crossover), co-commissioned by barbicanbite08 and the Hopkins Center for the Arts at Dartmouth College, is set to two works by John Cage played simultaneously, Aria and Fontana Mix, performed live, and décor and costumes are by Robert Rauschenberg, lighting by Josh Johnson.
Thirteen dancers in white leotards against Rauschenberg's red and white striped diversion barriers and bicycle urban backcloth unite, separate, partner each other, in between Cage's silences and white noise pollution Fontana Mix with its amplified whooshes, bells, bloops, squeaks, scrapes, static crackle, wood sawing sounds pinging round the auditorium.
And the distracting linguistically fascinating Aria - requiring undivided attention - is dense with vocal exploration. Japanese, Russian, Spanish, French, and English phrases, hiccups, sneezing, throaty vocalization, and bird song - I think. Human, animal, and inanimate sounds... And incantation.
Are the dancers blips on a futuristic, constructivist landscape? Stately, cool, slow, beautiful poses and shifting shapes - separate but together - are they manipulated levers and switches in a coldly indifferent supremacist world? The final look is one of fear: they look up and the lights go out. Against the odds a narrative of sorts - or do we provide it?
An intellectually stimulating and exacting Gesamtkunstwerk, but it does tax one's concentration - it is to be repeated in programme two
The best is saved for last. BIPED famously explores new possibilities for technology and dance in the form of 'virtual choreography'. 45 minutes of sheer pleasure and technical brilliance.
Key lighting is by Aaron Copp, metallic-look costumes by Suzanne Gallo, and the ethereally beautiful digital motion capture made anew by stage designers Shelley Eshkar and Paul Kaiser. And Gavin Bryars' cinemascopic soundscape (he is also part of the quartet of musicians performing live) swells fit to burst the spheres.
Thirteen dancers on a blue and white light-suffused grid floor compete with weightless fleet-of-foot digital spectres de la danse projected on to gauze front stage. Exploding into particles like Cornelia Parker's 1991 Cold Dark Matter: An Exploded View, or tennis ball and bubble size atoms, confusing perspective and reconfiguring the human body, they are kinetic life drawing class sketches.
Splitting and reforming in endless permutations, they show what is possible - dancing upside down on the ceiling like Fred Astaire, doing somersaults in mid-air, jesters to the court. . "O that this too, too solid body would melt, Thaw, and resolve itself into a dew!"
Hiding behind columns of playful stripes (vertical soundboard lines of coloured light dissect the stage; horizontal lines suggest staves of music), the spectres surprise and take one's breath away. But they do draw the eye away from the dancers, whose strength is in numbers. Unfolding in slow développés and held demi-pointe balances, with marionette arms, they are unemotional gods and goddesses, strong and solid, grouping and regrouping in ever-changing liaisons. "What a piece of work is a man!"
Mesmerizing, absorbing, and moving. Cunningham challenges, intrigues, entertains, and gives us pause for thought.
30 Sep - 2 Oct 2008
Reviewer: Vera Liber