Mercury Fur
Philip Ridley
Paines Plough
Menier Chocolate Factory
(2005)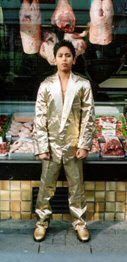 Hurrah for Tony Blair. If he isn't available, let's all vote for Michael Howard. If the alternative is This Other England as visualised by Philip Ridley in this Paine's Plough production, then however unpalatable they may seem, our current leaders will do fine.
Rather than another England, we are actually in another Kaneland as in-yer-face theatre makes a comeback. This is pure Sarah Kane dystopia, complete with oodles of ketchup, gasmasks and plastic protective suits. William Golding's Lord of the Flies might also have been an influence.
The play doesn't so much open as break and enter, following a brief stroll for audience members through a Laura Hopkins-designed Tracy Emin ante-room into a set that might be Miss E's living room after a heavy night.
Elliot and Darren are a crudely comical pair of brothers in a post-apocalyptic East End. They are setting up a sinister party for a City type, reverse sex tourist. He sounds like Eric Idle and wants to mix Rambo and Michael Jackson fantasies in the days leading up to a final holocaust that he intends to flee.
Nothing really goes to plan, as bright Elliot played by last year's sensation as Hamlet, Ben Whishaw, protects his brother. Robert Boulter plays thick Darren who has learning difficulties and limited memories of the normal time prior to the advent of some kind of biological warfare fronted by hallucinatory butterflies.
They are helped by happy-go-lucky Yorkshireman Naz (Shane Zaza) and gorgeous Lola, for some reason played by a man, Harry Kent, as they prepare for the arrival of gangster Spinx played with gusto by Fraser Ayres.
A throwback to the past is provided by Sophie Stanton's tiaraed, blind (remember Miss Kane's Blasted) Duchess who sings herself into fits and might even be the brothers' mother.
Things eventually get gruesome - though thankfully largely offstage - as, despite the premature death of his mini victim, the tourist gets his kicks, followed by a well-deserved bullet. This allows the play to achieve a surprisingly moral ending, allowing for the likely end of England, depicted courtesy of Natasha Chivers' imaginative lighting.
Philip Ridley, who wrote the screenplay for The Krays has set out to paint a shocking version of what might happen if we allow terror to get the upper hand. His characters are recognisable types put into extreme circumstances. This makes for stark viewing but in John Tiffany's pacy production feels nothing like its two-hour duration.
As with the early works of Miss Kane, this recipe is not for the squeamish and often its meaning is obfuscated. It is good to see the return of in-yer-face and the controversy and debate that such work leads to. Prepare for the storm.
Reviewer: Philip Fisher