Mercy
Lin Coghlan
Soho Theatre
(2004)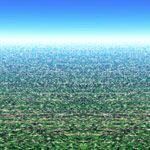 In semi-darkness, six dysfunctional people face a poisoned flood of apocalyptic proportions. For ninety minutes, they release details of their sad, limited lives in the inner city.
Mac and Cookie are brothers, Deccy is their mate and the older Rory is Mac's social worker. They are joined in a barn by army cadet, Terry, and his runaway girl, Jean.
Mercy owes debts to Lord of the Flies and The Poseidon Adventure. Its use of biblical allusions suggests, though, that Lin Coghlan has greater ambitions.
The problem is that none of the characters is particularly interesting and their plight is not all that original. They bicker, discover a dying woman, her baby and, most intriguingly, a passive chicken. The last is adopted by Peter Sullivan's Rory on the basis that it means more to him than his girlfriend.
Mercy tries to show us how really limited people act in extreme circumstances. It only succeeds in demonstrating how limited and hard to like they are.
Reviewer: Philip Fisher