Mermaid
Polly Teale
Shared Experience / Nottingham Playhouse
Sherman Cymru
–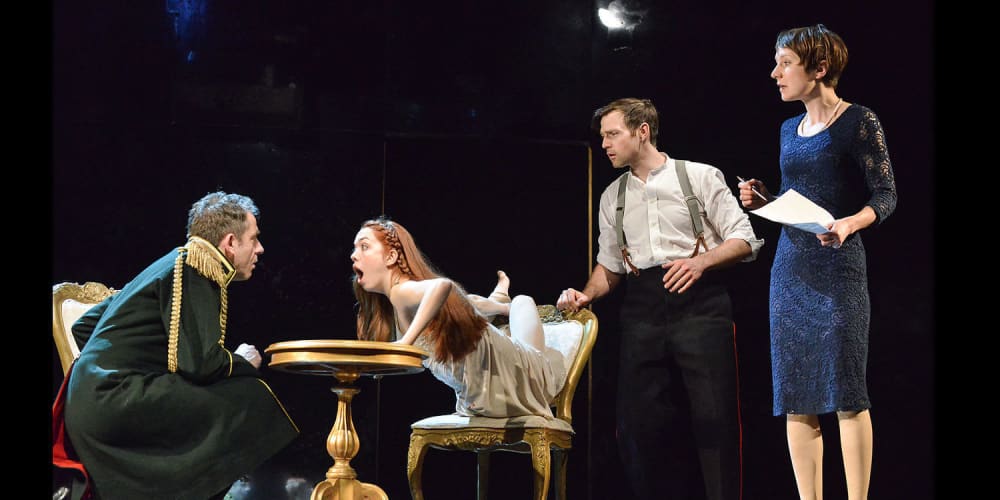 Polly Teale has a long and noble history of reconfiguring classic narratives in order to uncover the hidden stories of marginalised female characters.
Hans Christian Andersen's The Little Mermaid already has female suffering and sacrifice as its central plot point; in this production, she has given herself the task of making it attractive to the Young Adult demographic.
Her story starts with Natalie Gavin's Blue, a stroppy teen in a Northern seaside town, who finds solace from her family's financial troubles and her own estrangement from her peer group by re-exploring traditional stories, notably that of the titular aquatic maiden. We watch as she literally rewrites the tale of Sarah Twomey's Mermaid, bringing it into an unforgiving modern world.
Tom Piper's simple but efficent set is built upon a raised stage, so that we are always aware of the undersea world in which the apparently immortal, all-female mer-creatures are constantly moving, courtesy of Liz Ranken's remarkable choreography. Jon Nicholl's sub-aquatic sound design is equally effective, highly evocative while stopping short of submarine-movie cliché.
The narrative follows the Mermaid as she becomes entranced with the land-dwelling Prince—played as an instantly recognisable royal type by Finn Hanlon—after rescuing him from a slickly rendered shipwreck. Quickly realising that taking him down to live with her would be impractical, she delivers him to dry land, where he is discovered by Blue.
He is then returned to a world of stifling royal protocol and then, this being a time of war, faces a return to the front line (despite showing obvious signs of brain damage from prolonged oxygen deprivation). He and the mermaid continue to pine for one another, however. And the Mermaid is offered the opportunity to live on dry land, if only she makes some crucial concessions...
It is the point at which they are reunited that the story strays from its traditional path. The Mermaid is warmly welcomed into the royal family, by a King and Queen relieved that their son has finally found a suitable wife-to-be; the suggestion being that her muteness and mobility issues will render her suitably compliant. She is thrust into a world of extreme make-overs and voraciously intrusive mass media, suddenly becoming conscious of her new, earth-bound body—anorexia and bulimia are referenced, somewhat unsubtly.
The cast is excellent, Twomey and Gavin cleverly echoing one another as red-maned malcontents; Polly Frame effortlessly transforming herself into several maternal characters; Steve North shouldering the burden of most of the comedy as the token older male. It is perhaps ironic, though, in a female-centred narrative, that by far the most interesting character is Hanlon's conflicted, philosophically-minded soldier prince.
The trio of actresses in the ensemble—Ritu Arya, Miranda Mac Letten and Amaka Okafor—are pleasingly spirited as mermaids, tabloid journalists and annoying teenagers; not to mention the multi-headed Sea Witch. And the chorus of young women recruited locally—as at each touring venue—are a constant, watchful presence, although they are given relatively little to do.
The tale ends on a note of female solidarity at a time of uncertainty, although my feeling was that the two narrative strands intersected uneasily. Nevertheless, Mermaid is packed with arrestingly beautiful imagery, and should have little trouble connecting with its target audience.
Reviewer: Othniel Smith