Metamorphosis
Franz Kafka, adapted by Gísli Örn Gardarsson and David Farr
Lyric, Hammersmith
(2006)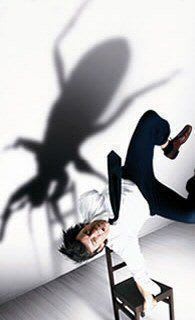 Icelandic Company Vesturport are like no other theatre practitioners with their unusual readings of classic texts and insistence on the need for circus skills regardless of the occasion.
This time, the mix works well, thanks primarily to an outstanding performance, both dramatically and physically from Gísli Örn Gardarsson, who also co-adapts/directs with the Lyric's Artistic Director, David Farr.
A little research is required for those who have not read Kafka's famous story. Just before the play opens, Gregor Samsa, the man in the bedroom, has strangely metamorphosed into a beetle but this is not explained.
The ground floor of Börkur Jónsson's set presents a drab, old-fashioned living room, occupied by a drab, old-fashioned family. Above is a bedroom, transformed by a revolution through 90 degrees so that the bed is on the back wall and the window on the ceiling.
This looks great but it certainly tests out Mr Gardarsson's muscles as he spends some 75 minutes defying gravity, crawling, climbing and trampolining for his character's life.
The family takes the change very badly, as one might expect. Father, played by Ingvar E. Sigurdsson, is irate; Mother (Kelly Hunter) devastated, and, initially, it is left to Samsa's plucky sister Greta, Gardarsson's regular leading lady, the eye-catching if occasionally overly-loud Nina Dögg Filippusdóttir, to hold the family together.
She, though, is the one who gets worn down first and begins an unintentional torture, vividly suffered by the beetle formerly known as Gregor. All leads to a hauntingly beautiful final diptych that will long remain in the memory.
As one has come to expect from this company, even when the plotting loses tension, there is so much going on both visually and aurally that attention cannot wane for long.
As in their Woyzeck, music is provided by Nick Cave and his Bad Seeds' violinist Warren Ellis. They manage the seemingly impossible in producing an interesting ambient soundtrack; with a final song from NC to delight the devotees of his depressing but hypnotic brand of dirge.
Kafka may have written this allegorical work in 1912 but, as the adapters make so clear, it pre-figures the rise of Nazi anti-Semitism with chilling accuracy and it is impossible to observe Gregor Samsa's fate without thinking of the Holocaust, which ironically took place two decades after the prescient writer's early death.
The adaptation of the story doesn't entirely work but the fireworks are so compelling that minor problems cease to matter in what becomes an exhilarating 90 minutes of Anglo-Icelandic cooperation.
Rivka Jacobson reviewed the 2008 revival at the Lyric, V Mitchell reviewed the tour at Newcastle and Lynn Rusk reviewed it at the Dublin Theatre Festival
Reviewer: Philip Fisher