Michael Clark Company: New Work 2012
Choreography by Michael Clark / music by Scritti Politti and Relaxed Muscle
Michael Clark Company
Barbican
–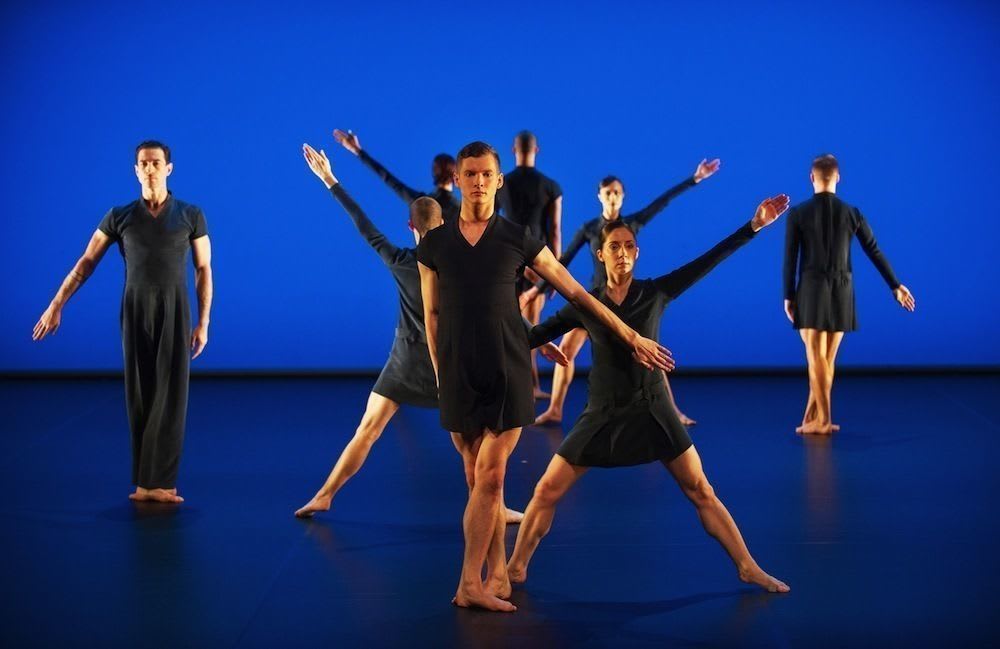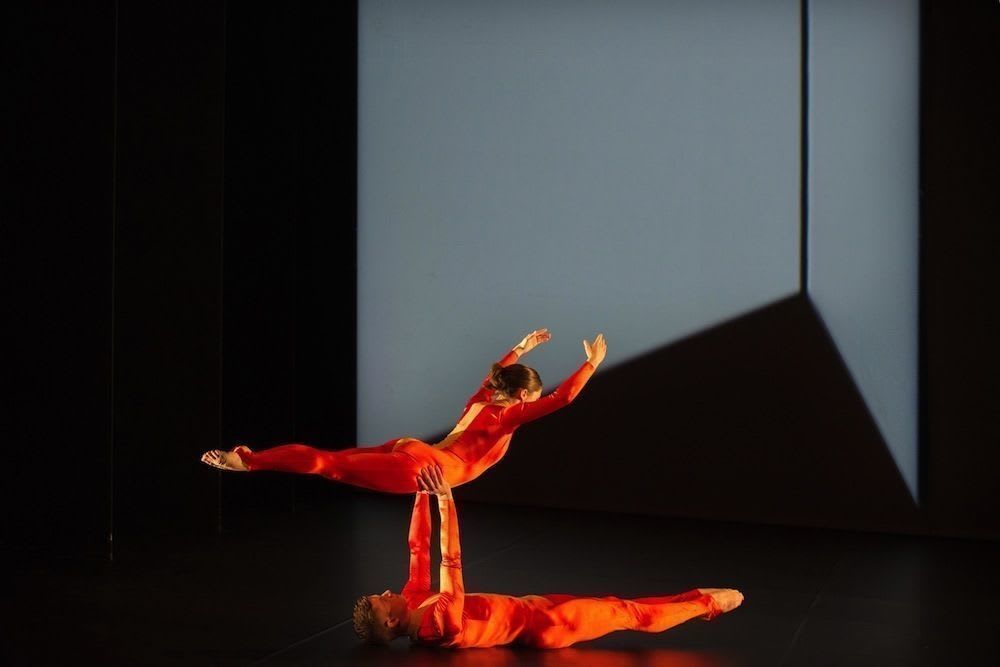 First-class dancers and high decibel music, from a live band this time (Relaxed Muscle)—it's Michael Clark having serious subversive fun in a new, untitled double bill that is not to be missed.
The first half, to Scritti Politti's funky bluesy dreamy music, is short and sweet. Heavy beat, metronomic rhythm, the choreography is ballet class elementary, crisp and beautiful in its simplicity. Clark, in socks and gymslip, does a walk-on, as is his habit, but Harry Alexander (in short black frock) drops from the sky—now that's an entrance.
Shoulders shrug, feet flex, eight dancers, slaves to the music, mine the love lyrics in stately bourrées, solemn walks, deep pliés. Hands signal and arms talk in Clark's now familiar vocabulary, its constructivist minimalism refining the sound. Looks as deceptively easy as dancing in one's own room. Pure delight.
But this is just the warm-up to the main act from Relaxed Muscle. Do many of you know that this is Jarvis Cocker in playful disguise? Clark is impishly sublimating his devil-may-care clubbing persona of several decades ago.
Dancers in sleek shiny bodysuit costumes we've seen before by Stevie Stewart—recycling is good—black and white starship enterprise, optical illusion stripes, and jellybean bright red / orange / yellow—are robotic space explorers, angels making shapes.
Layered electronic tracks, striking lighting design from Charles Atlas, a white on black projected sound line that opens to a loudspeaker wedge, and font typography. Lyrics are flashed on the screen, and the dancers embody them in literal interpretation.
'Why me, why you? What? I'm thinking of starting a zoo'. Backwards and forwards and upside down. Question marks dance across the back and round the auditorium. The dancers are in danger of being sidelined. Run run, in circles, to compete.
Dark handsome Jonathan Ollivier, petite Oxana Panchenko, dark-eyed Melissa Hetherington, crop-haired Julie Cunningham (former Merce Cunningham Dance Company member), long-time Clark collaborator stately Kate Coyne, Benjamin Warbis, Simon Williams, and Harry Alexander whose stature is here emphasized by pointe shoes.
Head-banging music, ambient sounds, and experimental lifts, gymnastic, testing, mirroring... Solos, duets, and en masse the dancers are precision drilled, all deserve a mention before Jarvis Cocker takes the stage and outperforms them.
He's been playing incognito behind the screen with Wayne Marsden on guitar and Zoë Grisedale-Sherry on drums. Now the screen rises and here he is out of the gloom in Halloween face paint and costume, a Mephistophelean showman.
He plays a blinder. The front row can hardly believe it when he descends and hands out treats. Trick and treating… Clark, face blacked, scampers around, his faithful black cat, a cool cat, subverting his own choreography, what else can one do in competition with such a charismatic performer…
A moonbeam, a pathway of light, which the fabulous dancers, disciplined in contrast to the shaggy-haired wild man on stage, traverse, sexy witches and warlocks. Sculptural shapes, mirrored stool accessories—smoke and mirrors magical realism.
The spots may be on them, but the eyes can't help but follow Cocker. He cracks the whip. The backstage is lit up—the space has grown (as in Mikhail Bulgakov's satirical riff on homo sovieticus's ingenuity in expanding living space), and Cocker takes complete control.
It is his eardrum-bursting gig, and the decorative dancers are barely a distraction. Cocker talks to his cat on the phone, Oxana Panchenko rides a panther off the stage, and Clark fights off a tiger with his lion-tamer stool. Some trip. Some self-indulgent merriment.
Reviewer: Vera Liber