When Midnight Strikes
Music by Charles Miller, book and lyrics by Kevin Hammonds
Finborough Theatre
(2007)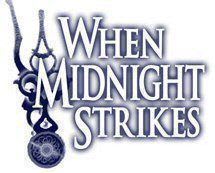 The 2007 new work season at the Finborough Theatre opened this month with When Midnight Strikes, the world premiere of a musical by Charles Miller and Kevin Hammonds whose previous collaborations include the well-received Brenda Bly: Teen Detective.
When Midnight Strikes is set to be another feather in their cap.
The story unfolds at an intimate dinner party of Manhattan socialites - an apt setting for putting on a brave face and being quite the party animal for the evening but this is no ordinary convivial dinner, it is New Year's Eve 1999 and on the dawn of a new millennium retrospection is as inevitable as facing up to some harsh realities.
Top of this list is the hostess' well-ordered world coming apart on discovering her husband, Chris, has been having an affair. Rachel has come across an incriminating letter but does not recognise the handwriting, although it becomes apparent that its author is at the party, and with this, the primary plot line, Kevin Hammonds' witty and skilfully-written book teases us with clues and red-herrings about her - or is it his? - identity.
The book and lyrics also contain some wonderful laugh-out-loud acerbic moments as the characters reveal the bitchy side of their 'party faces' and there is empathy if not sympathy when Chris puts his case in the song "Like Father Like Son" and his brother appeals for love in "A Jerk Like Me".
When Hammonds' intelligent and savvy lyrics are matched with Miller's melodic score, the result is a collection of terrific show-stopping numbers, and Sondheim fans will spot the occasional homage to the master.
When these numbers are put in the capable hands of Norma Atallah, responsible for the musical staging, we get set pieces - such as "Party Conversation" where nerdy Edward and grumpy Murial abandon their inhibitions - that are as near-perfect as you can get. Had Ms Atallah had more space at her disposal her great skill would have been able to make even more of the big ensemble numbers which she also staged to great effect.
A word should also go to Wai Yin Kwok for the simple and elegant stage design. Her set subtly evokes the timeless Manhattan skyline and yet reflects the period - in this chic living room director Fenton Gray makes a virtue of the small space and at times there is a palpable sense of claustrophobia giving credence to the partygoers' need to escape to the roof for the fireworks.
It is on the roof that events start to challenge credence as bohemian ex-hippy Zoë instructs everyone to write the name of the person most important to them on a piece of paper and throw it into the brazier for the fire's smoke to go up providentially to 'the gods', and the partygoers seem to take this seriously. That said "Up In Smoke" is a terrific ensemble piece which has an almost anthemic quality and much credit should go to Magnus Gilljam for the musical direction.
It is invidious to cite only a few of the cast member's names when one of the strengths of this production is how well they all play together under Fenton Gray's precise but unfussy direction, nevertheless needs must.
Emma Hatton has a strength in the way she delivers a song that belies the fact that she makes her professional debut here and Hannah Lindo achieves a great balance between the broken hearted and the comical, whilst and Lorraine Graham does a good job of a rather stereotyped role.
Shona White must be mentioned for convincingly imbuing Nicole's shallow tart-with-a-heart with character and some moral principles. Nancy Baldwin and Ben Enwright as Murial and Edward display a real talent for comic timing and provide an hilarious antidote to the too-often spot-lit heart-rending solos. However, if there is one performance that shines above even these it is Miles Western's. As Bradley he has to cover the broadest range - he is as good being madly camp as in the piece "We're here [the fag-hag and queer]" as he is by turns menacing and funny.
In When Midnight Strikes London-based Charles Miller and New York-based Kevin Hammonds have borrowed the baton from the likes of Sondheim and created a rare thing - a witty and entertaining piece of musical theatre that is also a treat for the brain. It's enough to restore one's faith in the genre!
"When Midnight Strikes" runs to Saturday, 29 September 2007, Tuesday to Saturday Evenings at 7.30pm. Saturday and Sunday Matinees at 3.00pm. Tickets £18, £14 concessions. Tuesday £9 all seats. Saturday evenings £18 all seats. The original cast recording of "When Midnight Strikes" is due to be released next month.
Reviewer: Sandra Giorgetti