The Mikado
W.S. Gilbert and Sir Arthur Sullivan
Orange Tree Theatre, Richmond
(2004)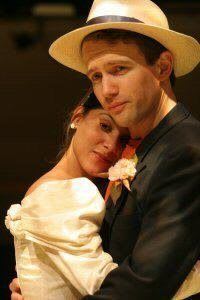 Adaptor/Director Chris Monks has been touring his unique vision of The Mikado for almost 10 years but it still has the fresh feel of the constantly updated.
He pretty much gives up on Japan in favour of the contemporary village green and the run-stealing cricketers who flicker to and fro. This seems wholly appropriate, as this Mikado opens on the same day as an England Test series in South Africa.
Monks is constantly inventive and while the production lacks gravitas, it is great fun and audiences will lap it up. It is also bang up to date in its satirical targets, unfortunately for David Blunkett.
Monks is greatly assisted in his village green vision by wonderful efforts from designer Sam Dowson and two exceptionally versatile musicians.
Miss Dowson makes the most of the cricketing themes that also veer into jolly hockey sticks in the case of the three little maids and violent ones from Carol Noakes' dark goalie, Katisha, a vampish, reincarnated Wicked Witch of the West with an operatic voice.
There are some wonderful inventions along the way as James Millard's Aussie/Blairalike Nanki-Poo and the sweet-voiced Martine McCutcheon-like Sophia Ragavelas as Yum Yum search for eternal bliss.
The pitfalls come from Alan McMahon as stern Scot, Ko-Ko, sneering Yorkshire umpire, Pooh Bah played by a bluffly funny Paul Bentall, not to mention the evil, titular main man. On the other side are the three little maids, entrancing the male members of the audience in 2004 St Trinian's garb.
The singing, especially from the men is nothing special but the lyrics are sharp, while the comedy is refreshing and rarely lets up. G & S underlie everything but there are always cricketing surprises in store. These include a homage to numerous greats, some live action and a grimly hilarious execution tool.
There will be better productions of the Mikado but for sheer fun, and a great sporting frisson this sometimes surreal version will prove very popular.
Reviewer: Philip Fisher