Mind Mangler: Member of the Tragic Circle
Henry Lewis, Jonathan Sayer and Henry Shields
Mischief Theatre
Pleasance Courtyard
–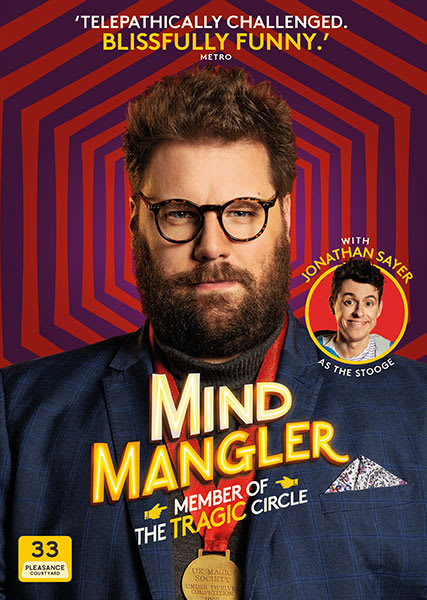 The Mind Mangler is a character played by Henry Shields the Mischief show Magic Goes Wrong, originally created with Penn and Teller, now given his own show.
It begins in the queue when we are asked to fill in cards with our name and a secret about ourselves. These are put in fish bowls on either side of the stage, which also contains a safe with a combination lock, which some audience members are asked to try to crack on their way in.
The star enters to a big fanfare for a show that includes a lot of audience participation. There is some genuine magic and some stage effects throughout the show, but it is the ones that go wrong spectacularly that stick in the memory.
He claims to be able to taste people's names in the audience, and to smell their occupations, then to hear thoughts of playing cards. Of course these demonstrations don't go entirely according to plan, but he quickly moves onto the next after telling us, "this is not my only skill!"
It is sometimes difficult to tell which participants are genuine audience members and which are stooges, but one obvious stooge—played by co-writer Jonathan Sayer—is integral to the show, playing several different roles, and possibly the real star in many ways.
This is a company with roots in improvisation and, amongst the very carefully calculated elements of magic and slapstick, the working of the audience is superb. Even most improvisation shows and comedians ignore some shouts from the audience, but here, every sound from the audience is acknowledged and incorporated; not only that but some things said by members of the audience would then reappear much later in the show.
This is an absolute riot of a show, a great way to end a day at the Fringe, from the masters of this kind of mayhem that adapts to the audience for each performance. Catch it now before you have to pay West End prices to see it.
Reviewer: David Chadderton