Minefield
Lola Arias
LIFT
HOME Manchester
–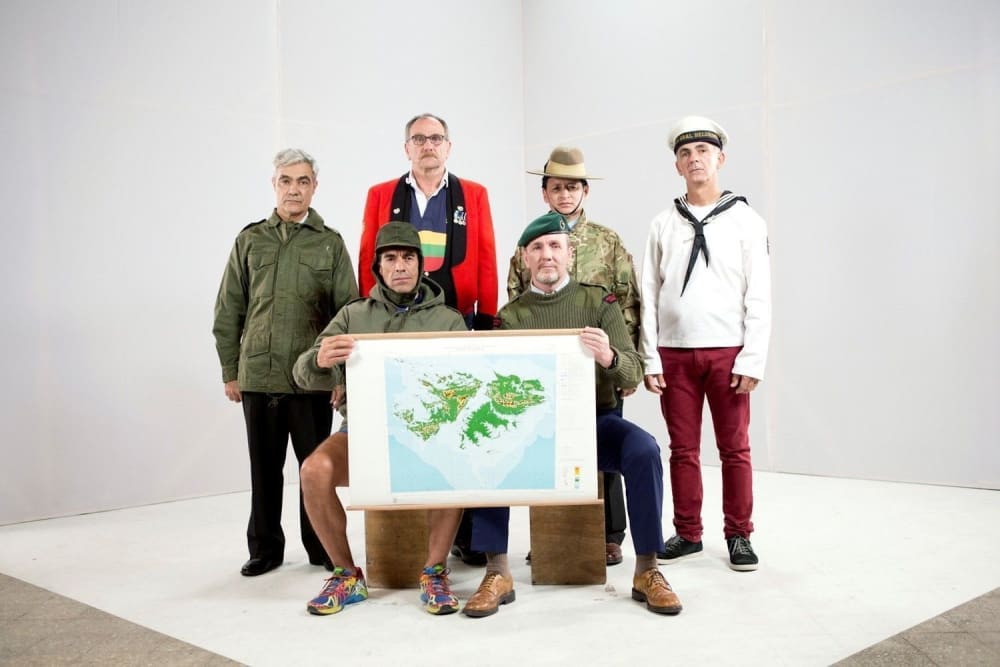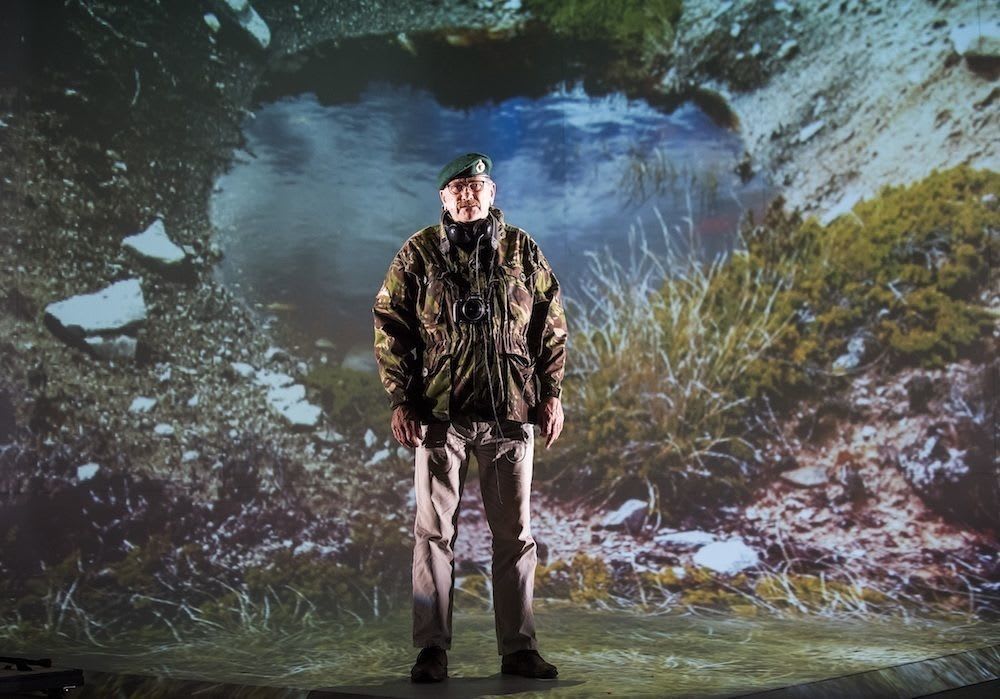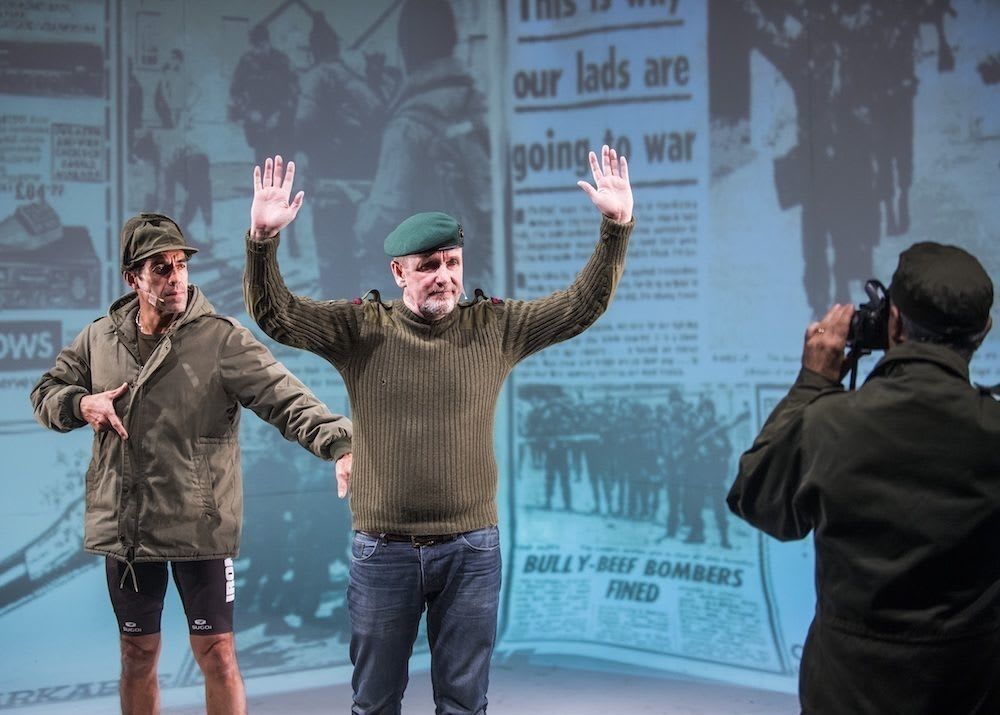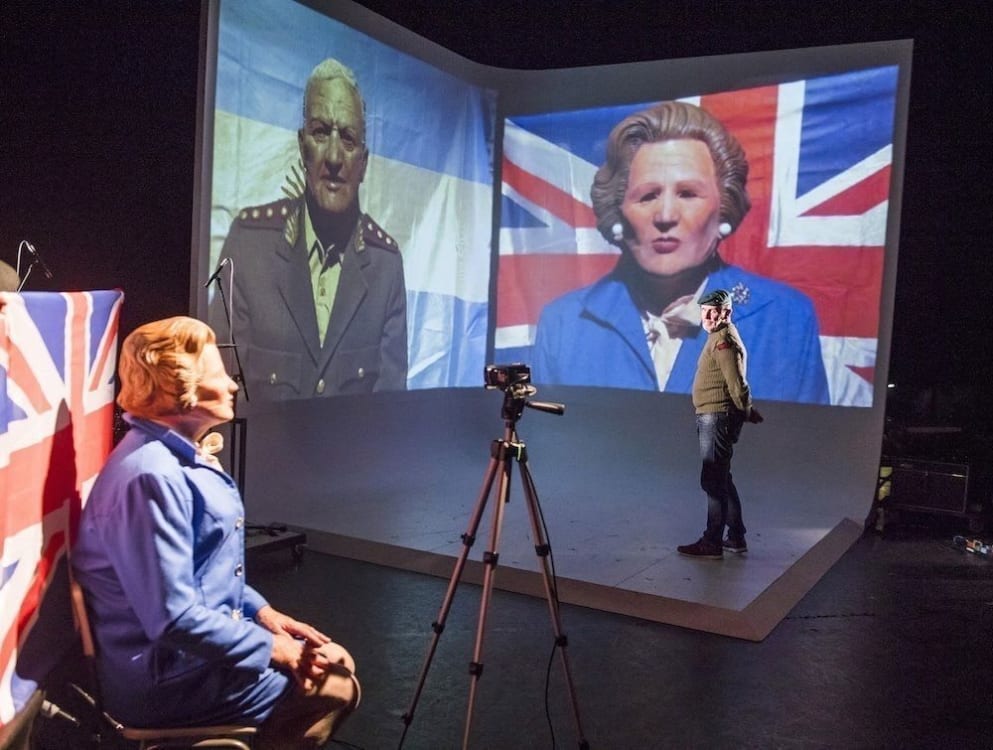 Like The Two Worlds of Charlie F that came to Manchester four years ago, this is a staging of the experiences of frontline soldiers in a British conflict performed by the people whose stories they are rather than by actors.
While the scars are not as visible as they were in the Charlie F cast, this production, which took longer to rehearse than the Falklands / Malvinas Conflict actually lasted in 1982, is a remarkable piece of theatre that shows vividly the lasting effects of war on the combatants, long after the conflict itself has shifted from the news pages to the history books—we are told early on that more of those who fought have died from suicide than were killed in battle.
The simple staging uses a small platform backed by a curved projection screen which is fed images from cameras on the actors for staged scenes and interviews or, more often, attached to an overhead projector, showing us maps, information and some contemporary documents, photos, film clips and personal items. Foley-style sound effects are also used, with all of the visible technical work and scene shifting carried out by the cast with military precision and timing.
This cast consists of six ex-soldiers, three from the British side, including one Gurkha, (Lou Armour, David Jackson and Sukrim Rai) and three Argentinians (Gabriel Sagastume, Ruben Otero and Marcelo Vallejo), all speaking in either English or Spanish with surtitles in the opposite language.
The performers are clearly not actors, speaking their lines as pieces of text they have learned and rehearsed, but that actually adds to the power of the message. An actor's instinct would be to inject some emotion into the telling of these often harrowing stories, but the matter-of-fact delivery leaves space for the audience's own emotional response. Even so, during the rehearsed patter, I'm sure I could detect a flicker of suppressed feeling in the eyes of some of the storytellers as they took themselves back to when this was not just a story.
The play combines the stories from the conflict with the story of putting the show together and reliving their memories during rehearsals. There is plenty of humour and banter between the performers, but their experiences cannot be imagined by anyone who hasn't been in battle.
And the people on stage were right in the thick of the action in some of the most significant moments of the conflict. Armour was pictured in newspapers around the world being marched at gunpoint by Argentinian soldiers at the start of the conflict. Otero was on the General Belgrano when Margaret Thatcher gave the order for it to be sunk, despite it being outside the exclusion zone, at a cost of more than 300 lives—Otero drifted in a lifeboat for 41 days before being rescued.
Sagastume spoke about collecting the body parts of his colleagues in his only blanket after they had been blown up by mines planted by his own side but about which they hadn't been told. Armour is still haunted by the image of an Argentinian soldier he had to bury who had spoken to him in English and the shame of breaking down in tears when talking about the incident for a BBC documentary five years later.
Vallejo talks of having therapy quite recently to Jackson, now a therapist himself, as, he says, anger is necessary in order to kill and it isn't easy to get rid of that anger. He once said if he ever met a Gurkha he'd attack him; here he meets one on stage, who has now settled in Britain after a long battle for Gurkhas to be allowed to do so was finally resolved quite recently.
There's far too much content in this production to recount in a review, but the whole thing is put together extremely well in a slickly-directed package that doesn't pull any punches about the horror of war but doesn't try to deal with the politics of the conflict at all. In fact, in a scene near the end, the performers make it clear that they still cannot agree on the politics of the ownership of these islands, but they still have much more in common with one another than they do with most other people in their own country.
Live music is an important part of the show, which ends with these fifty-odd-year-old men performing a powerful punk number that asks "Have You Been To War?" amongst many other questions about awful experiences that none of us have had to deal with. It's a perfect way to end a thoughtful and provocative hour and forty minutes in the theatre.
Reviewer: David Chadderton