Mirror Teeth
Nick Gill
Finborough Theatre
(2011)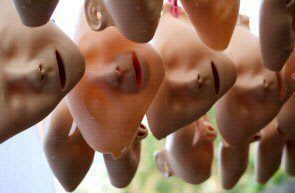 Mirror Teeth is a satire that relies far more for its appeal on the delivery than the message. From its opening sallies, between a bigoted British husband and wife, to its final vision of miscegenation, Nick Gill and/or director Kate Wasserberg demand that every word be delivered in tones of heavy irony.
For a time, this can be amusing as the cut glass tones of David Verrey and Catherine Skinner playing James and Jane Jones expound on their philosophy of family life in the raw. Despite sounding like HRH and her consort, the Joneses are fiercely racist, elitist and sexist.
Their children are spoilt stereotypes too. Jamie Baughan's John is an uninteresting undergraduate with a girlfriend, Jean, who could be the image of his sister. That may in part be because both are played by the same person, the superlative Louise Collins.
The actress has to switch instantly between nympho girlfriend and nympho sixth-former Jenny. She does so with alacrity and such skill that one could easily wonder whether it is the same actress.
Jenny scandalises mum by dating Kwesi (Jotham Annan). Much to Jenny's irritation, he is a religious man who refuses to satisfy her passions.
Long before the family decamps to an unnamed Middle Eastern state ripe for revolution judging by a long speech from the local policeman, the joke has begun to wear thin. There, James is able to make even more money from his arms dealing than had been possible back in Blighty.
Overseas, the family behaves very much the same though Jane catches the nymphomania bug, until a tragic offstage incident leaves Jenny catatonic and tests Miss Collins' ability and patience to the limit but she comes through with flying colours.
You will either be swept up by this kind of satire or left completely cold. Either way, it is hard not to admire the direction and acting throughout the 100 minutes duration.
Reviewer: Philip Fisher