Let's Misbehave! A celebration of the songbook of Cole Porter
David Benedict, based on the songs of Cole Porter
Salisbury Playhouse Salberg Studio
(2011)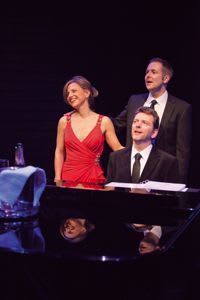 Melody, movement and melancholy. It's a recipe that has delighted patrons in the Salberg Studio at Salisbury Playhouse for the past four years or so, complementing the raucous rough and tumble of traditional pantomime in the main house with sober, sentimental sophistication in mature mode.
Much, as musical director and accompanist Glyn Kerslake points out in his introduction, has to do with the minor key.
So much of contemporary American Broadway melody is written this way that piquancy becomes the dominant theme. By no means all is sad—though much is. But throughout the flavour, as well as the content, is of nostalgia.
Principal soloists are Liza Pulman, whose light soprano often lifts the sombre tone of many Porter melodies, and Ian McLarnon, a tenor with a real flair for this genre.
Kerslake contributes with a baritone which adds variety to many of the numbers.
And Simon Green, who once again directs proceedings, ensures with writer David Benedict an almost seamless movement through tunes of yesteryear.
After an opening medley including the title song from Anything Goes, the singers move easily through recollections of such once hit-shows as Gay Divorce ('Night and Day') Paris ('Lets Do it') and Nymph Errant from which Liza Pulman contributes the memorable anatomical dictionary, 'The Physician'.
And from Hi Diddle Diddle McLarnon sings Porter's bet-winning number with the impossible title: 'Miss Otis Regrets'.
The first-half ends with a lively selection from Porter's most famous musical Kiss Me Kate.
Second half gems include 'Do I Love You' (Dubarry Was a Lady), an Anything Goes medley, 'I Concentrate on You' (Broadway Melody) and the entertainment finishes on the brilliant notes of a selection from High Society including that now-legendary piece of film nostalgia immortalised by Bing Crosby and Grace Kelly 'True Love'.
Nor do they forget to sing softly that memorable Porter song 'Ev'ry Time we say Goodbye' (Seven Lively Arts).
Sad to reflect that as a result of Porter's urge to put his music first and the librettist nowhere, most of his work survives only in the tunes—or is it?
Let's Misbehave continues in the Salberg Studio until 14th January.
Reviewer: Kevin Catchpole