Mischief
Theatre Rites & Arthur Pita
Sadler's Wells Peacock Theatre
(2009)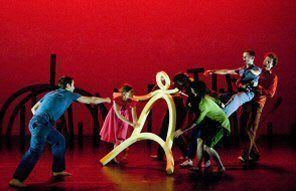 Gold stars all round to Theatre Rites' creative team and engaging performers. A fabulous mime-dance show for all ages - for five-year-olds (as billed) and grown-ups prepared to give wing to the inner child. It's not easy to please everyone, but Mischief does. It does. Global appeal - no languages needed.
My five-year-old companion loved it. Not some of it, but "all of it". Now that's remarkable - he never sits still. Seventy minutes - well, actually the performers were having such fun that it went overtime - no interval, and not a fidget, just a bobbing in time to the rhythm, and total involvement. "How do they do that?"
Simple - magic. Deceptively simple magic. And creative ingenuity. Which Theatre Rites have in bucket-loads. If you've not heard of them, then you must seek them out, whatever your age. But to catch them at the age of five This is the show with which to introduce a child to theatre and, en passant, to the universal world of dance - Busby Berkeley, jazz, street, Mark Morris joyful, playground hopscotch.
Vibrant hues to dazzle the eye, bouncy music, seven charming dancers, a 'cool' musician and pieces of foam - straight square chunky columns, round bendy ones, long thin stringy strips, thick hoola hoops - all shapes and sizes, which can be anything you want them to be in quick slick transformation. Stage set, props, puppets, snowmen, giants, boa constrictor, dancing teacher-partners, or sticky spaghetti. And we're allowed to touch, as the never-ending 'python' slithers over outstretched hands. Do try this at home. Release your artistic creativity with the possibilities of foam.
Visual artist Sophia Clist has imagined an uncomplicated wonderland. Under a strong colour wash of lights (Guy Hoare is surely in Robert Wilson's league), a dark enchanted forest becomes a fluorescent playground that invites playful japes, silly fights, petulance, and daring deeds.
Picture book stage scenes, creatures of the sea and sky shimmying against a changing silhouette cityscape, dancers turning cartwheels across the floor, and a tough guy, dreadlocked, break-dancing, body-popping, taking on a foam stick giant and losing. 'Look behind you' - the yellow giant has suddenly doubled in size (it requires five operators). But it's the little stick man in his hand that delivers the knockout blow. Hmmm.
Arthur Pita's choreography is funky fresh. Contemporary ballet moves and tumbling cartoon style slapstick vie for attention. There's always a clown in the classroom, and Rachel Donovan plays the clumsy klutz to perfection. Missing the boat, or out of step with the rest. Her Buster Keaton / Charlie Chaplin innocent deadpan silliness has the little ones in stitches: spaghetti sticking to body parts, or swaddling head and face. She unravels like a spinning top - to silent movie style piano accompaniment.
Black-clad Phil King, on-stage musician, performer, and sound effects man all in one - beatbox, keyboard, guitar and more - keeps the jazzy tempo on track, and sings Charlie Winston's jaunty songs (out on CD).
To paraphrase the final song - let's not be too serious; it's more fun to be mischievous What a fun way to learn about dance, choreography, theatre, and a moral or two for good measure. A treat for the eyes, ears, and a brush-up for the brain. The theatre was packed.
Also renowned for their site-specific productions, Theatre Rites, founded in 1995, are touring with this stage show (check out their website www.mischieftour.co.uk for dates).
Reviewer: Vera Liber