Miss Nightingale
Matthew Bugg
Mr Bugg Presents & Theatre Royal Bury St Edmunds
Grand Theatre, Blackpool
–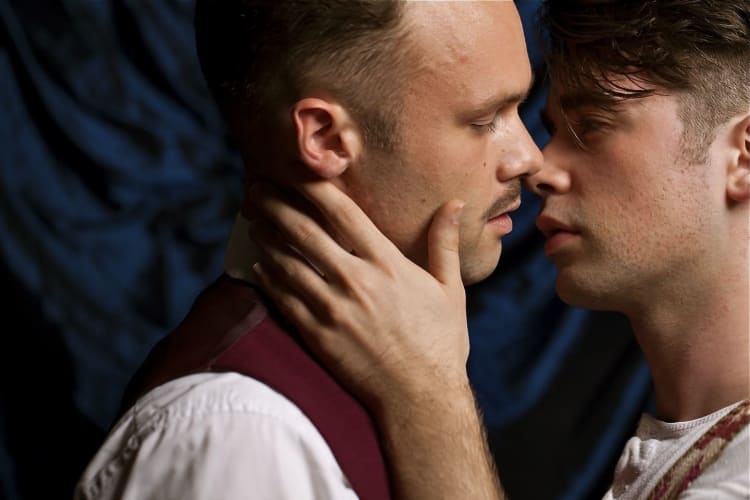 Take a style that is old, make it something new, add bits that are borrowed—and others that are definitely blue—and you have the near-perfect marriage of song and drama in this highly-engaging musical play.
Miss Nightingale has been in almost constant development since it was first seen hereabouts—at a studio performance in The Lowry in Salford five years ago. Since then its cast has doubled in size, to six, but grown considerably as a novel tale set in Second World War London.
In particular the songsheet has increased in that time and there is now some welcome humour to offset the play's dark atmosphere.
Writer and composer Matthew Bugg wraps nearly 20 original songs around the story of a wartime love triangle, but one with even more tangled themes involving a love that, back then, still dared not speak its name, leading to blackmail.
It's all set amidst the city's nightlife and evokes the seedy style of clubland theatre and burlesque, and the spirit of everything from Cabaret to Noël Coward. There are also several outrageous nods to the smutty songs of George Formby or Grace Fields.
Which makes it all quite at home in Blackpool.
Clara Darcy, in the title role, channels more than a little of Our Gracie as a Northern lass turned nightlife entertainer. It is an instantly-engaging performance from an actress whose abilities will already be familiar to regional theatre audiences.
Nicholas Coutu-Langmead, Conor O'Kane and Christopher Hogben are equally sound as the male leads, and all the cast (including the show's creator) double up as band members.
Sadly this is one of the last appearances of a show which was probably always destined to be a small-scale production. But it does not take too much to imagine how full orchestrations would benefit several songs here that deserve to be heard again.
Reviewer: David Upton