Miss Nightingale
Music, lyrics and book by Matthew Bugg
Mr Bugg Presents
The Lowry, Salford
(2011)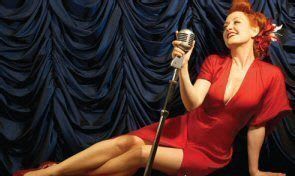 When launching a new musical onto a paying public, it is rarely a good idea to cast professional actors instead of professional singers. There are, of course, some notable exceptions to this rule of thumb but last night's premiere of Miss Nightingale at the Lowry in Salford wasn't one of them.
On an evening when fog in the north west shrouded the region, the reason for Matthew Bugg's choice of trio for his first musical was equally obscure. Miss Nightingale is an ambitious stab at a challenging piece of music theatre and has the potential to be a big hit - but only if the singing gets much, much better.
And there's the rub. Amber Topaz as Maggie Brown, an East End nurse during the Second World War who is desperate for recognition and fame as a chanteuse, is faultless when reciting dialogue. As the feisty Maggie she is by far the best performer on stage, no doubt helped by her considerable experience in cabaret and burlesque. She is a pleasure to watch when not exercising her vocal cords.
Richard Shelton in the role of Sir Frank Connor is wholly believable as a nightclub owner intent on hiding his homosexuality from the authorities. He embarks on a relationship with George, Maggie's songwriter friend who rails against Sir Frank's attempts to present a persona which is acceptable to a hostile society. Ilan Goodman gives a decent portrayal of the young Jewish Polish refugee but is outshone in the acting stakes by his two colleagues.
Let us remember, however, that this is a musical. And what a musical it could be. From the bawdy ditties and love songs to the plaintive lyrics and haunting melodies, Matthew Bugg has composed and written a brilliant musical book. 'This Can't Be Love' and 'Someone Else's Song' were highlights for this reviewer but other theatregoers will no doubt find their own favourites if the delivery improves.
Bugg's ability to combine a winning songbook with the issue of homosexual love in the early 1940s is to be admired. He manages to convey his message without sacrificing the quality of his score, never an easy task in musical theatre. Marginality and the consequences of being an outsider are everywhere in the lyrics, whether it is George's refugee status, Maggie's disadvantage of class or being gay in an unforgiving and uncomprehending world which in 1942 branded gay men as "the enemy within".
Miss Nightingale transfers to The King's Head Theatre in London after its run at Salford Quays. It is to be hoped that Bugg will have realised the potential of his show by then.
"Miss Nightingale" runs at the Lowry, Salford Quays from 20th January, 2011 until 22nd January, 2011.
From 26th January, 2011 until 19th February, 2011 at The King's Head Theatre, London.
Reviewer: Helen Nugent