Mistakes Were Made
Craig Wright
Barrow Street Theatre, New York
(2011)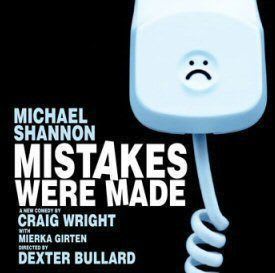 This transfer from Chicago is a near solo show that would inevitably appeal to almost any seasoned theatre producer but is of wider interest.
Michael Shannon expertly portrays Felix Artifex, an unsuccessful Broadway producer who finally sees a chance to step up into the major leagues come within reach.
All he needs to do is get his ducks into line, which sounds easy but ends up torturing the dedicated workaholic for the full 1¾ hour duration.
His main goal is to secure the services of a major Hollywood actor. Miraculously, that household pseudonym Johnny Bledsoe is interested in the project, a French Revolution historical drama. He takes some persuading but with a few minor changes seems satisfied.
All that Felix then has to do is persuade his writer to beef up a minor part that does not exist. How could that be a problem?
From this basic premise, writer Craig Wright builds up a very funny comedy.
Felix is predictably desperate to get everything to work out but despite his best efforts, writer, actor and an agent between them conspire to drive him almost literally mad.
It doesn't help that other projects are going awry at the same time and his ex-wife's radio silence is hardly needed.
With support only from an unseen secretary, played by Mierka Girten, and Denise the chirpy but doomed goldfish, controlled by puppeteer Sam Deutsch, our man does his best.
Where writer director Dexter Bullard and Michael Shannon are so good is in allowing a character to become increasingly manic in his efforts to have a quiet life. This play could easily have degenerated into a poor sitcom but it sustains the comedy and should have appeal to audiences whether steeped in the theatre or not.
Reviewer: Philip Fisher