Misty
Written & performed by Arinzé Kene; music by Shiloh Coke and Adrian McLeod
Bush Theatre
Trafalgar Studios
–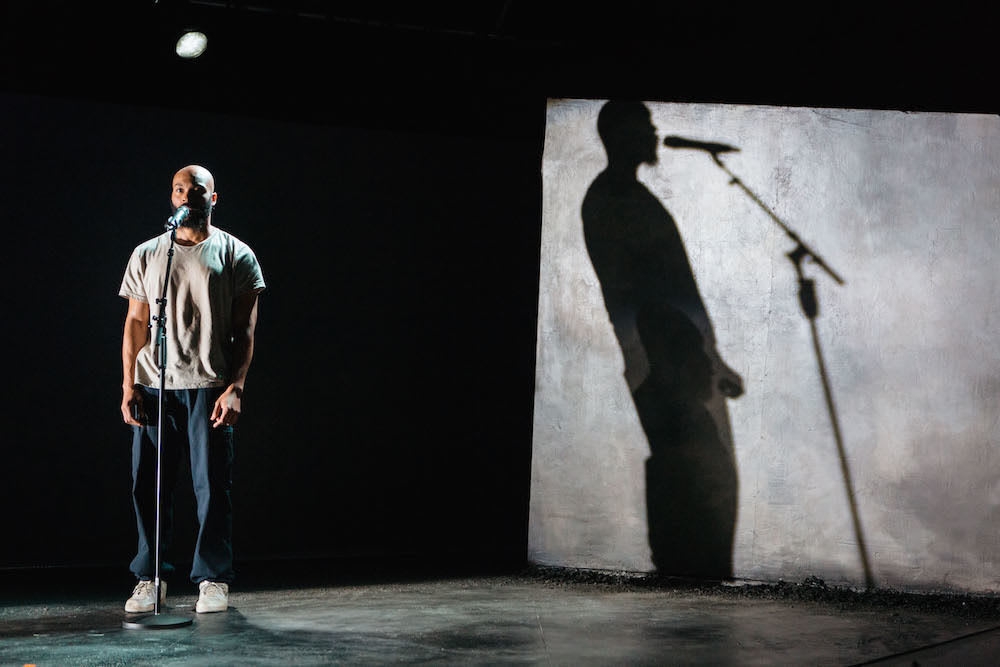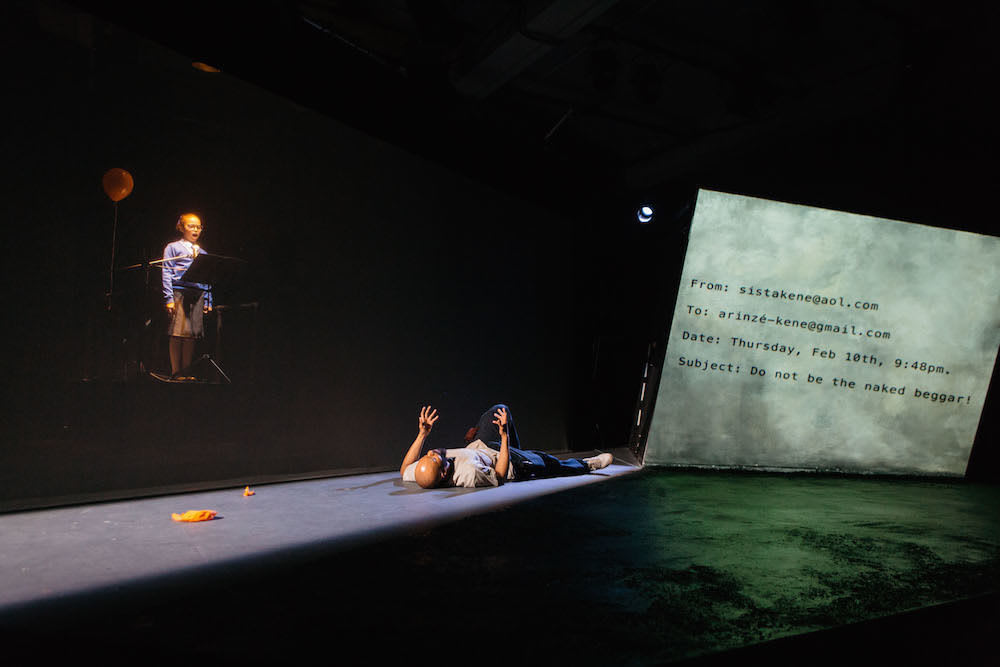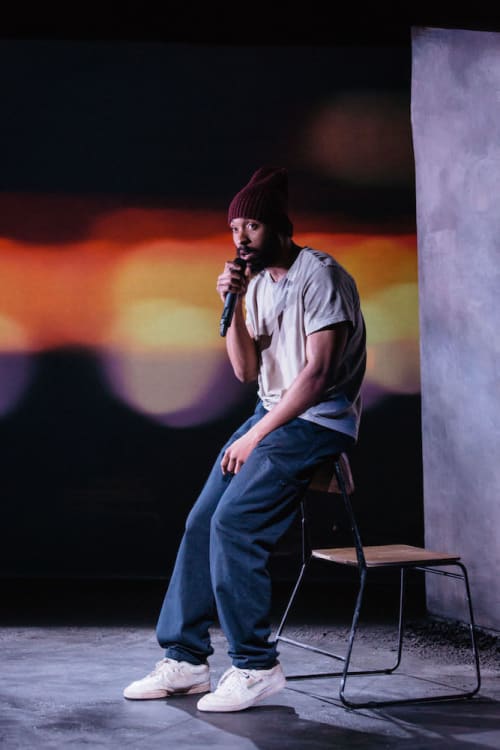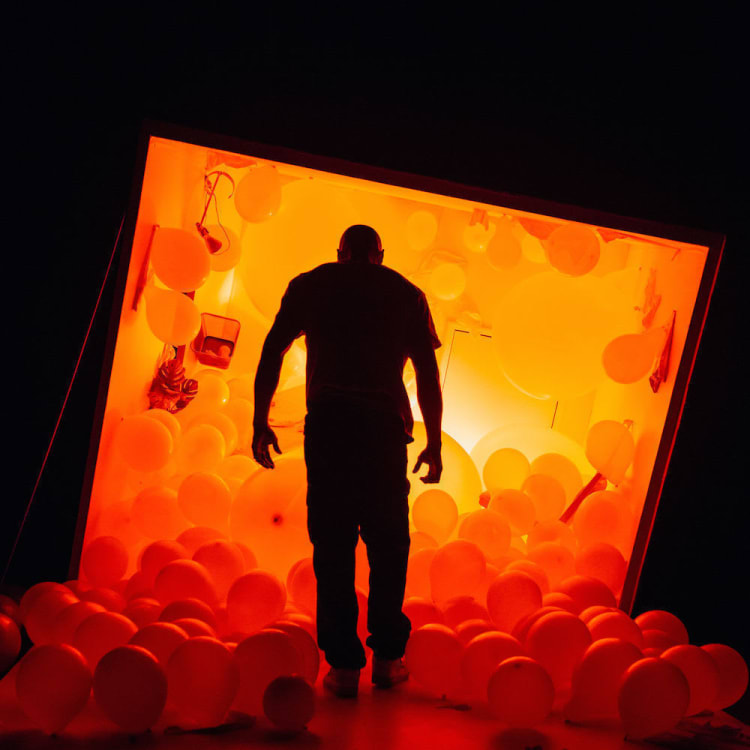 A happy, buzzing audience probably doesn't notice the melody sending them out into the blustery London streets. Listen, it's apt. There's nothing about Misty that hasn't been thought through to the smallest detail.
"It is only a paper moon / Hanging over a cardboard sea / But it wouldn't be make believe / If you believe in me. It is only a canvas sky / Sailing over a muslin tree / But it wouldn't be make believe / If you believe in me."
Believe in me. How many young black men in the 'urban jungle' are believed in? That seems to me to be at the heart of Arinzé Kene's heartfelt funky disquisition. "Black lies matter". As much as white lies, but does anyone call a play a white play?
Well, he's written this one to redress the situation, this "urban jungle safari shit". His friends, mild Raymond and droll Donna (musicians Adrian McLeod and Shiloh Coke doubling as actors), accuse him of selling out and writing a "little nigga play", "a minstrel show".
The usual problem kids on the street, the usual stereotypes. Racism, black trauma, violence, Django, 12 Years a Slave, why are these the stories that get the green light? She likes cycling, why can't she have a cycling montage through the streets of London?
It is about the arterial streets of London. "Here is the city that we live in / Notice that the city that we live in is alive / Analyse our city and you'll find that our city even has bodily features / Our city's organs function like any living creature / Our city is a living creature / And if you're wise enough, you'll know not all of us are blood cells… / Some of us are viruses."
But this dynamic storyteller, taking on the troubled personality and backstory of rough kid Lucas, who wants to go to the zoo—he's never been to the zoo, because his mother doing several shifts lost the school chit—but ends up being chased for throwing a punch on the bus—"a lot of crazy shit happens on the night bus"—admits he's got it wrong.
He thought he was the virus but it turns out it's the incomers, the yummy mummies and their huge baby buggies, the trustafarians displacing the rastafarians, who are the viruses.
Oppressive gentrification / colonisation is the new disease out-pricing the locals, shutting youth centres. And these new coffee shops with their separate menus for coffee and for tea get a big laugh. "Croque madame? Crock of shit!"
See where he's coming from, this agent provocateur, rhyming poet, edgy performance artist, actor, singer, and comic? And orange balloon obsessive… What's that about? He emerges from one the size of a space hopper—a rubber womb—looks very claustrophobic. So he's an escape artist, too. The audience loves him.
Funny, pulling no punches, this is a carefully workshopped if rambling show. Much credit must go to Jacques Lecoq-trained director Omar Elerian, whose programme article "From Page to Stage" gives the lowdown on process.
"Jammin'!" is how they did it. He and Madani Younis (soon to take over running the Southbank Centre) commissioned the show in 2012, their first commission as the new team at the Bush, where Misty was a sell-out this spring.
Crazy and operatic, Misty is marked out for success. Kene also writes a playful text for the programme, a prologue of sorts, "From Idea to Page", in which he riffs again on a mindset that needs to call a play a black play and the wretched word 'diversity', mindless pigeonholing an easy target.
He makes his point with panache, energy, wit, and a command of the stage with, I was going to say, only himself and his shadow (superb lighting design by Jackie Shemesh). But, there's the two backing musician / actors, a game ASM (Hanne Schulpé) throwing water bombs at him (!), Rene Powell playing a Little Girl playing his older sister with language that has to be bleeped out, Daniel Denton's video design, two dramaturgs, a movement director, Elena Peña's sound design, and voiceovers.
Rajha Shakiry's clever set design is economical: one multi-purpose backcloth intersected with what looks like a brutalist concrete block which opens to an eyeball-searing orange interior. Flickering shadows, pulsating psychedelic lights, the city at full throttle, a city getting harder to negotiate for a poor boy on the run.
Almost Dickensian, this day in the life of Lucas: the Artful Dodger doing wheelies on a stolen bike. Artful, Kene is in this meta-production. Shakespearean too. Not political, he says. Isn't the personal political? Street poetry and "featre", black lies, white lies, theatre's truths thrum to a heavy beat. Kene is red hot.
Reviewer: Vera Liber