Mitten wir im Leben sind / Bach6Cellosuiten
Choreography Anne Teresa De Keersmaeker & Rosas, cello Jean-Guihen Queyras
Rosas
Sadler's Wells
–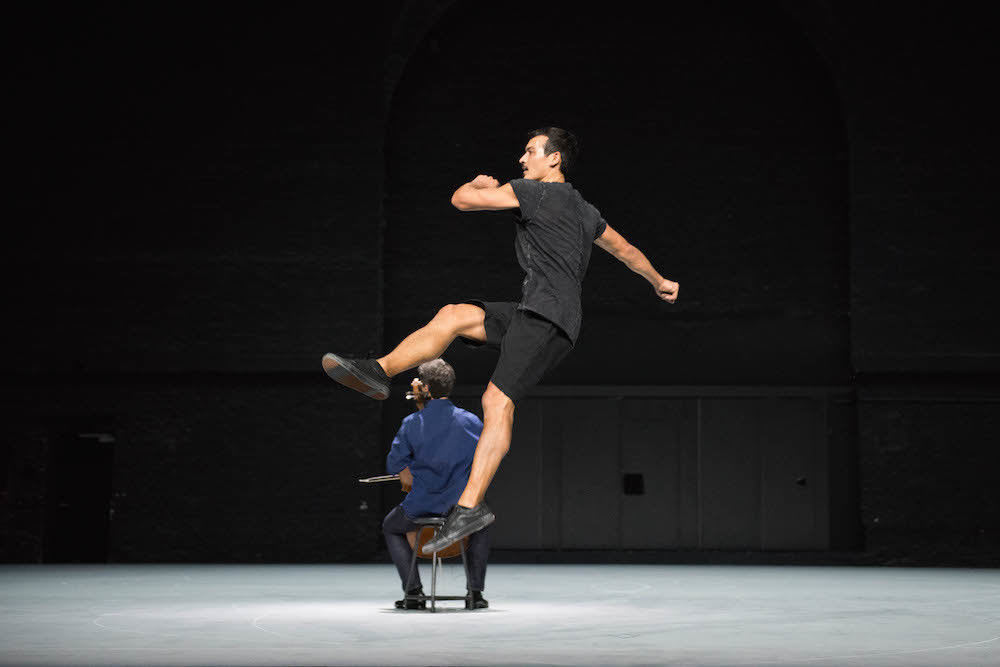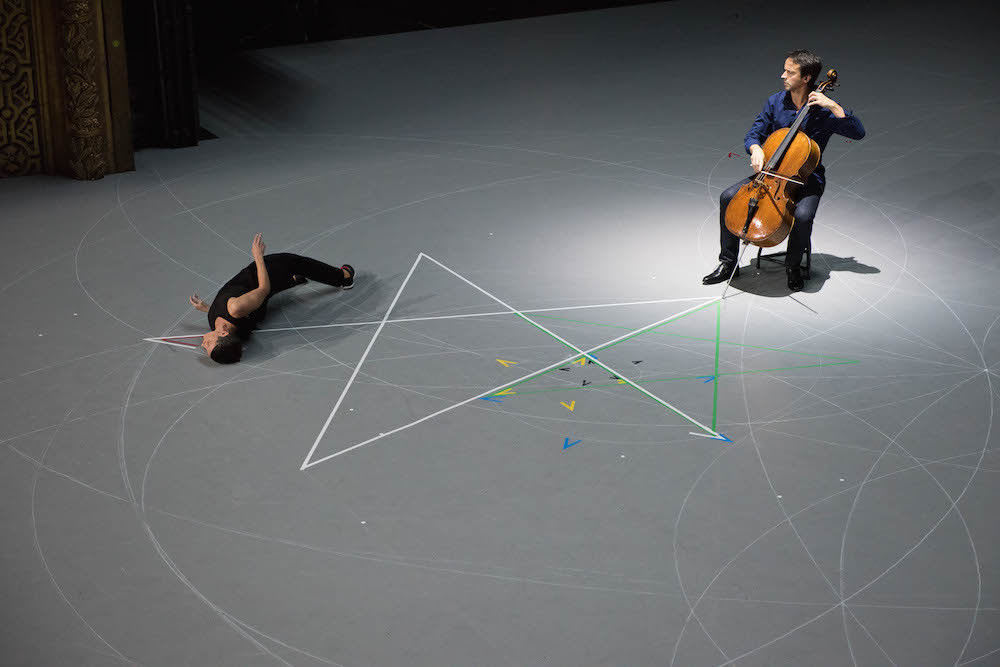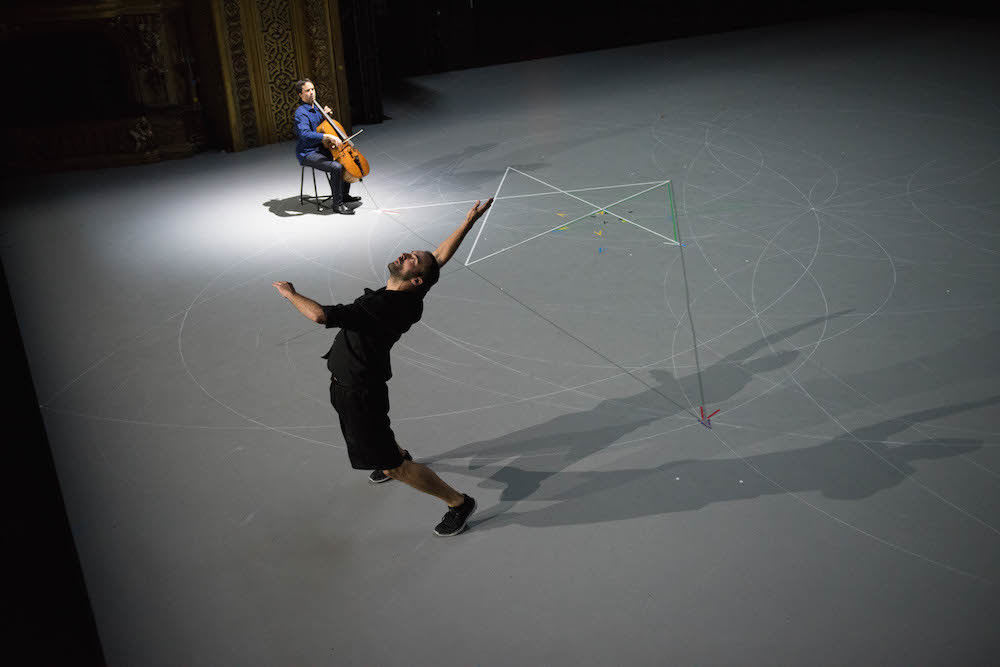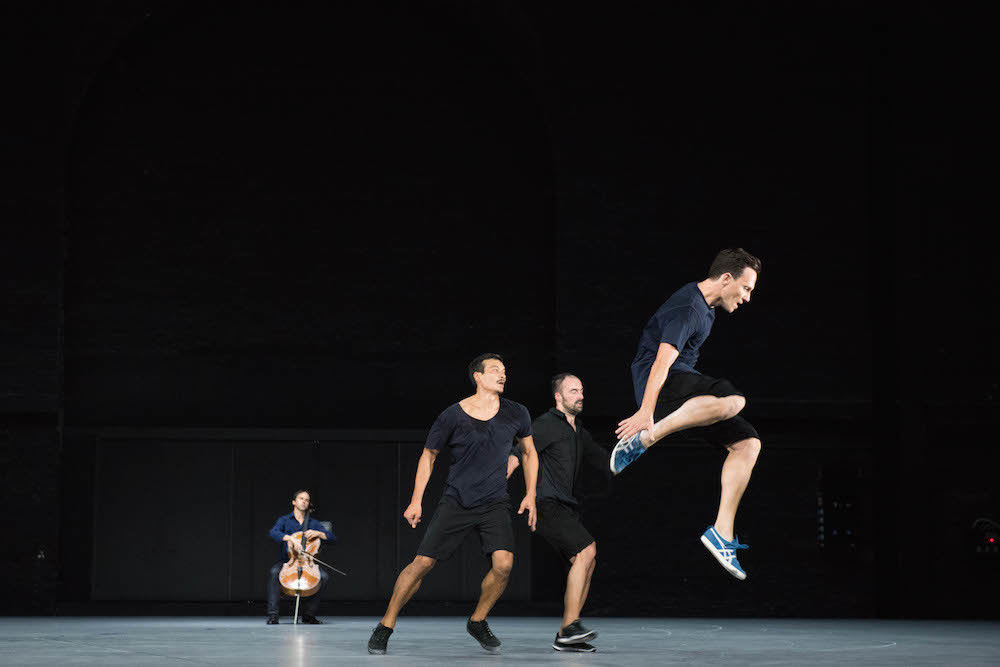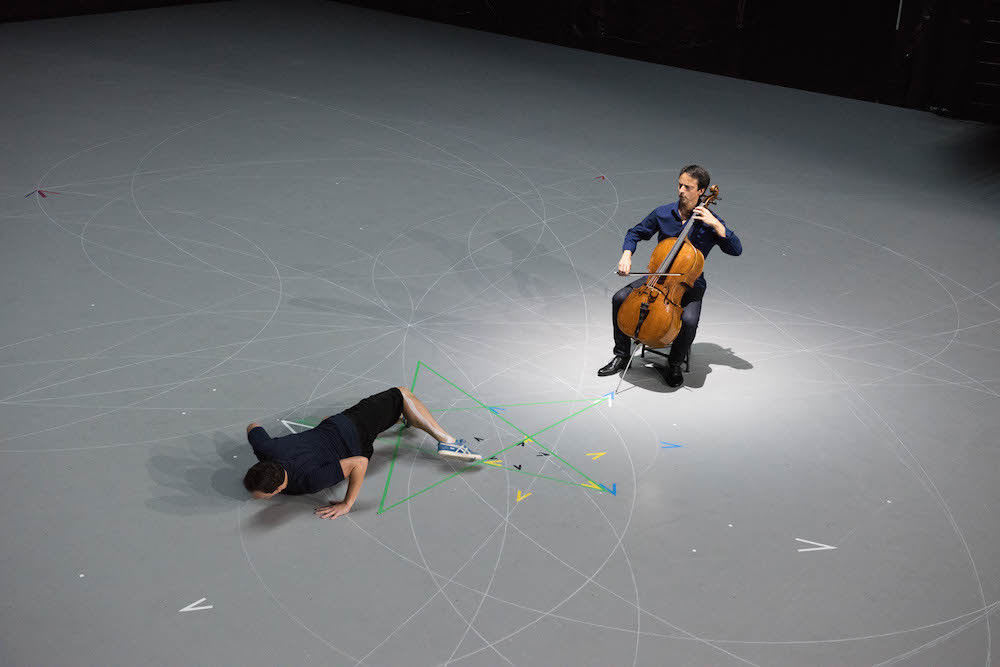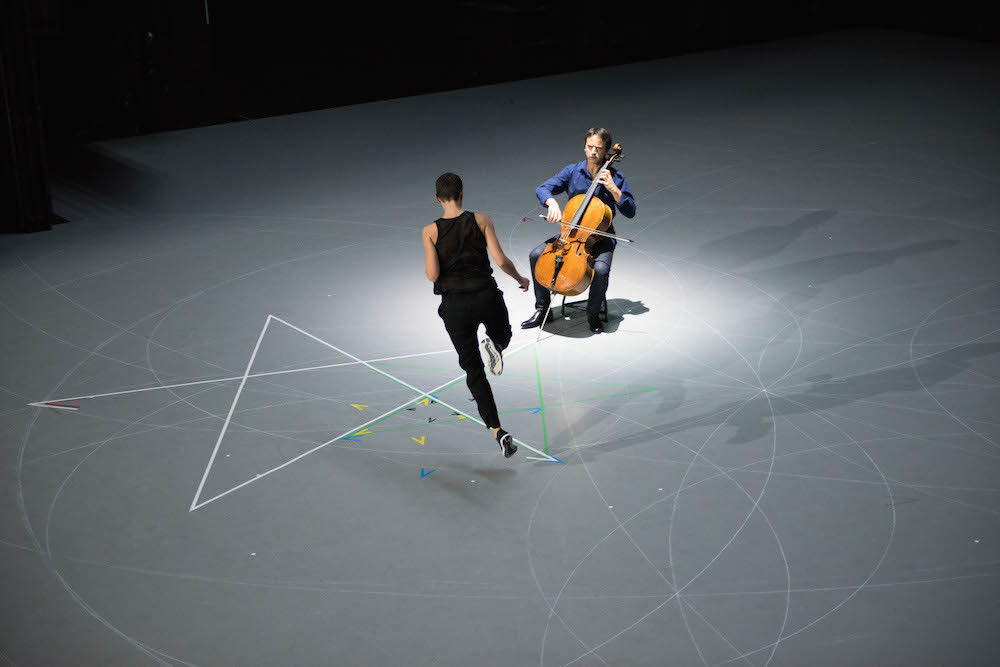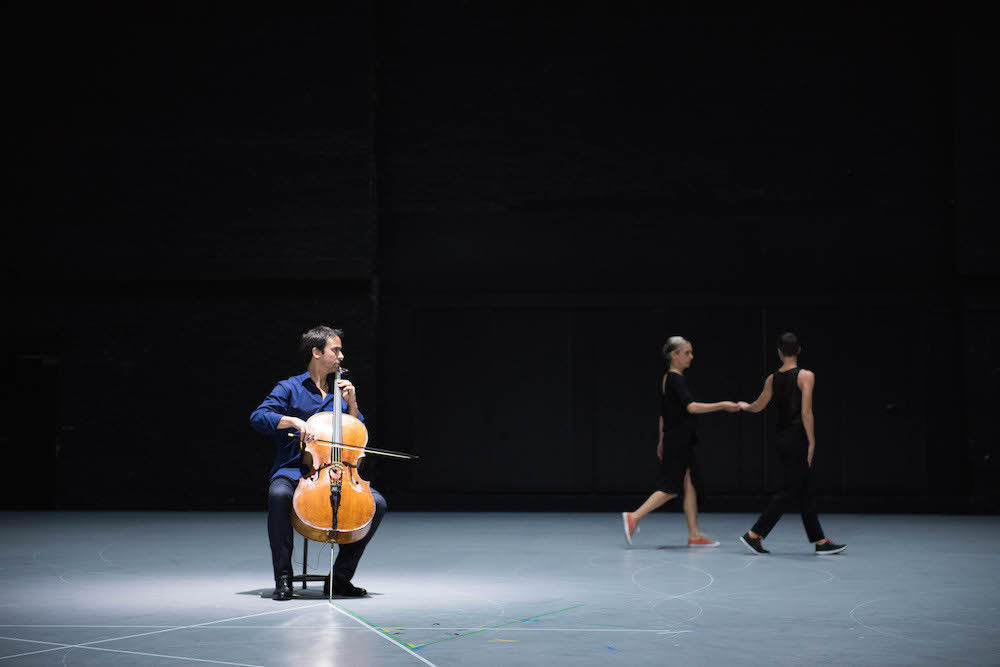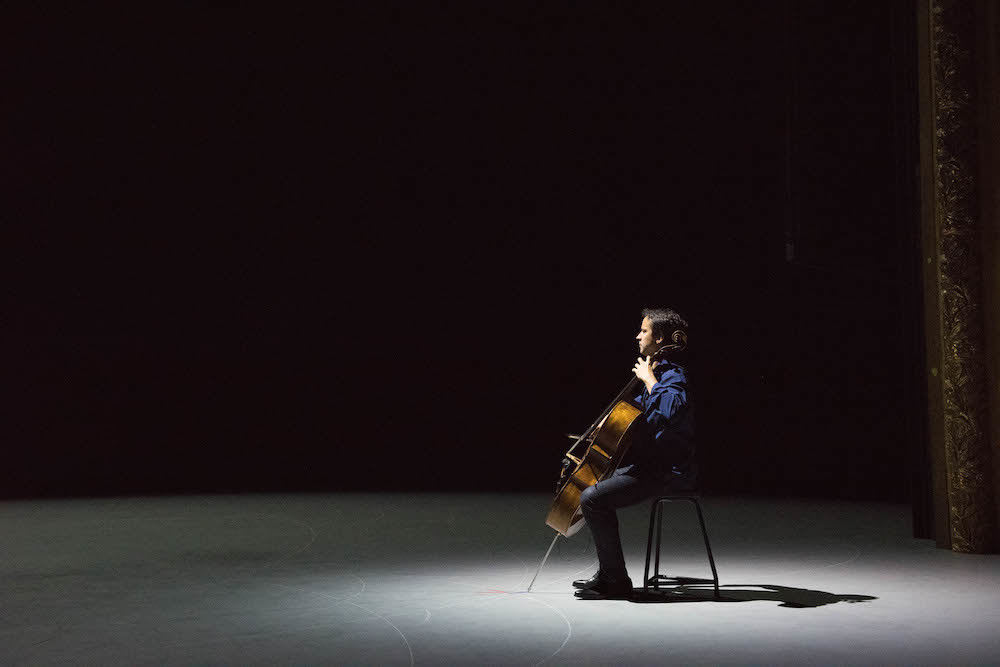 To the austere intellectual Anne Teresa De Keersmaeker, "Bach's music contains movement and dance like none other and succeeds in associating extreme abstraction with a concrete, physical and even transcendental dimension..." No disagreement there.
She brings up Newton, Leibniz, laws of nature and the I Ching in her programme interview. The title Mitten wir im Leben sind (Mit dem Tod umfangen), in the midst of life we are in death—a medieval hymn translated by Luther (on Pina Bausch's gravestone, too) speaks of the here and the ever after, of spirituality.
But what do squeaky tape and Johann Sebastian Bach's Six Cello Suites for Unaccompanied Cello, BWV 1007–1012, have in common? There's something Masonic and Vitruvian man in the geometry drawn on the stage floor—of course, only visible from upstairs. Intersecting circles (Bach's musical cycles, his polyphony?) are already there, but the five-pointed stars of David laid down during performance in coloured tape are secured by dragging trainer-shod feet across them.
Renowned French cellist Jean-Guihen Queyras rises serenely above it. Seated on a simple stool with his back to the audience for the first Suite. The stool is moved and he is rearranged, sometimes face-on, sometimes side-on, sometimes at the very back of the bare stage, for each sublime Suite. But it is when he is left alone (Suite No. 5 in C minor) with his growing dancing shadow (lighting Luc Schaltin) that the evening is at its most mesmerizing and rewarding.
Part of the set geometry, of the choreography, on several occasions he is halted mid-movement—the better to appreciate the music's resonance in the silence, perhaps—but an unexpected jarring note in the proceedings, as if to say don't drift, sit up and notice. Unaccompanied dance, just the sound of feet and breath, attempting to replicate Bach's profundity.
Five dancers—Boštjan Antončič, Marie Goudot, Julien Monty, Michaël Pomero credited with co-creation, and De Keersmaeker—pay service to the music, singly, in pairs and ensemble, in seemingly improvised banal movements. But this is deceptive, the simple moves having been carefully calibrated. Grounded repetitive playground moves: balances, rolls, tumbles, walks, skips, spins, runs, standing still catching breath and playing dead. Circling moves, giving way to gravity, to the horizontal, to death.
De Keersmaeker talks of verticality and horizontality, the vertical as the spiritual axis, the connection between heaven and earth. And of translating the "harmonic structure of the music into a posture of the human body"; of linking "key modulations or transitions from minor to major"; of "centrifugal and centripetal movements". I wonder whether Mitten wir im Leben sind / Bach6Cellosuiten is more one for the music critics to review.
Two hours—no interval except for the sporadic breaks (for the 'light' to get in?) and sounds off (sound Alban Moraud)—stretches De Keersmaeker's naïve vocabulary, Bach's courantes, allemandes, sarabandes, gigues translated with some literalness. Six Suites each with six movements, work out the mathematics—a demanding task for any choreographer taking liberties with a master. She has a dramaturge, Jan Vandenhouwe.
Distracting rather than illuminating or inspiring (there are some walkouts), the dancers in their dull casual wear (design An D'Huys), mostly black, work very hard, driving themselves to visible exhaustion, whilst De Keersmaeker moves serenely amongst them, in semaphore and metaphor. Conducting proceedings.
Reviewer: Vera Liber