Mixed Programme - One and Two
Mark Morris Dance Group
Sadler's Wells
(2009)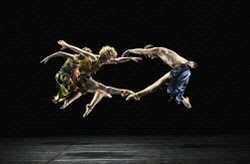 A synaesthetic fusion of music and dance, eclectic music translated into joyful dance, two glorious programmes of Mark Morris choreography - irrepressible creativity or too much of a good thing? One's senses are overwhelmed with aural and visual delights.
His musical repertoire is an education in itself. In a relaxed Q & A session he was asked whether he liked his choice of music (!). It was the Charles Ives that prompted the question. He replied it was very very very gorgeous. As is his body of work.
Music underpins it all. It is his cri de guerre, the font of his inspiration, and his raison d'être. In truth he is conductor manqué, though not so manqué any more - he made his conducting debut in 2006.
For Morris dance is music made visible, simple as that. Music is the natural impulse for dance - and vice versa - hence live musicians in performance and rehearsal. The Mark Morris Music Ensemble was formed in 1996 - superb singers and musicians.
We see the music, its beats, rhythms, shape, tones, counterpoint explicated in dance. We listen with our eyes wide open. His ballet programmes are, in effect, concerts. His dancers breath the music through their bodies - music moves them.
This visit brings two new works, one for each programme, alongside familiar works from the 1990s, and the still fresh in my mind 2001 work, the Darwinian V (Schumann's Quintet in E flat for piano and strings, Op. 44). Praying mantis creatures cross the stage hesitantly on all fours (a clever representation of musical rests), evolve into homo sapiens with upright confident gait, and flocks of birds in elegant flight. Seven dancers in flyaway blue silk and seven in apple green vests and trousers, mingle, separate, circle, pair off, reunite, interlock their Vs, and fly.
An apparent insouciance about technique, body shape, and a legacy of folk dancing, gives the illusion of accessibility - we could all do that. And, maybe we could, if only we had the stamina of the dancers. Circle dances, walking across the stage, running, skipping, jumping - how hard is that? The dancers make it look easy, but the complex formations, precise timing, and flamboyant musicality show a master at work.
A showman, too. Beethoven, Schubert and Schumann from the Old World mix with Charles Ives, Lou Harrison, George Gershwin, and the country and western swing band sounds of Bob Willis and His Texas Playboys - the latter the only break from his live musicians rule - from the New.
Dancers, in gay (as in bright) primary colours, striped and checked, bellhop, sporty, military costumes, strut exuberantly through the impishly satirical Empire Garden (UK premiere) to Charles Ives's Trio for violin, cello, and piano with its allusive American folk tune motifs. Morris brings out the harmonies and dissonances of the music, its patriotic jingoism, its can-do good nature. America the brave.
Sandwiched between Empire Garden and V is the delicate and tender Bedtime (1992) to Franz Schubert's lieder - Wiegenlied (lullaby), Ständchen (serenade), and Erlkönig (from Goethe's poem) - a mini-drama, a three-act night-time narrative. From a guardian angel looking over three restless sleepers, to the lyrical calm of deep sleep, to the nightmare of hovering death (sleep a form of death). From ruhig to marrow-chilling dramatics - Margaret Bragle's singing is clear as a bell.
In the second programme American composers outnumber the solitary European. But, first place is given to Beethoven's Sonata no 4 in C major for cello and piano. The music leaps from page to stage in Visitation (UK premiere), the dance a physical embodiment and visualisation of musical notation. Against a Rothko red backcloth dancers in autumnal hues are the keepers of the flame.
After the sonata the mood picks up with the guitar twangs of Bob Wills and His Texas Playboys in Going Away Party (1990). Corny lyrics of love and heartbreak are played out in crowd-pleasing tongue-in-cheek literal style in the Big Country against its endless blue sky. Boys meet girls; girls sashay, boys play cool; boys seduce girls (crotches splayed across mouths in open-legged lifts) at barn dance gatherings; and guitar chords jumpstart apathetic bodies. A lonesome cowboy (Bradon McDonald) is leaving home and no one gives a damn.
Three Preludes (1992), replacing the promised Excursions (2008), is a solo danced by Bradon McDonald, a marvellous dancer with a fine technique. Gershwin's Preludes for piano inspire cinematic life. With pierrot body and minstrel hands, dressed in black, with white at the neck, and wearing white gloves, McDonald is the twitching black and white piano keys, and a black and white cartoon animation unfurling across the silver screen. Droll and apt.
Grand Duo (1993), to Lou Harrison's score, is Morris's Rite of Spring. Thirteen dancers in loincloths and loose shifts pound and sweat, fingers scrawling messages across the murky sky, fists clenching, arms scything, feet stamping, in tribal ritual and circle dance, in haka face-off stance, in physical semaphore. A song of the earth? A visceral spectacle.
Reviewer: Vera Liber