To Kill a Mocking Bird
Harper Lee, stage adaptation by Christopher Sergal
Salisbury Playhouse
(2005)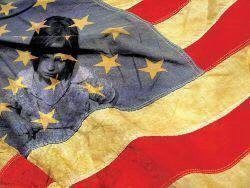 Forty years ago Robert Mulligan's black and white film of Harper Lee's Novel To Kill A Mocking Bird was hailed as sensitive and daring.
In 205 Joanna Read's strong production at Salisbury Playhouse, for all the hype over Hurricane Katrina and the social problems of New Orleans, lacks the tension of the original drama which inspired it.
Those were days of Martin Luther King and Govenor George Wallace. Gregory Peck's Oscar probably owed as much to them and their times as to his immaculate, Oscar winning performance of defence counsel's closing speech. Richard Heffer deserves his own award for his performance as Atticus, benign, firm father who takes on the impossible task of defending a black man accused of rape.
The director's decision to present the play "in the round" instantly gave the audience a sense of real involvement, albeit with a simultaneous risk to audibility and, consequently, comprension of the intricate plot. Too many of the players appear careless of their diction in the face of the challenge of the audience around them. Much of Amy Brown's dialogue as the young Scout is lost to the rafters and the lighting vents - and she is by no means the only victim of the Playhouse accoustics.
Nevertheless, this is gripping stuff and the involvement of the children in the exposition of the plot is superb.
Not only do we have the tragic plight of Tom Robinson, an intelligent erformance by Ariyon Bakare, there is also the sad story of Boo Radley (Tim Meats, who also doubles as a spikey Southern Judge). American communities seem crowded with precocious children delighting in sending up the lonely elderly: remember Margaret O'Brien in Silvery Moon?
There are also strong performances from Tony Boncza as Sheriff Tate and Neal Barry as Bob Ewell.
As he delivers his challenge to the jury and to the people of Maycomb, Atticus Finch reminds us all that the only way to understanding another person is to "climb into is skin and walk around in it."
"To Kill A Mocking Bird" continues until 1st October.
Reviewer: Kevin Catchpole