To Kill a Mocking Bird
Harper Lee, dramatised by Christopher Sergal
Nottingham Theatre Royal and touring
(2007)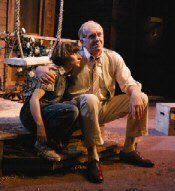 More than a few eyebrows must have been raised when it was announced that Duncan Preston was to take on the role of Atticus Finch, the principled lawyer who defends a black man accused of raping a white woman, in the stage version of Harper Lee's moving masterpiece.
Those who doubted Preston's suitability for the role must have seen him only as Clifford in Acorn Antiques, Stan the janitor in Dinnerladies or in any number of Victoria Wood's creations in which he displays an effortless zest for comedy.
But earlier in his career he had two-and-a-half years with the RSC in tragedies including Romeo and Juliet and Macbeth; and he also played Lenny in Of Mice and Men - roles he wouldn't have got if he was merely good at cleaning ladies' toilets.
Preston gives a complete performance as the slightly staid family man who is concerned about his children and who also has a past he's not prepared to talk about. As a lawyer he's clever, probing, at times angry, yet determined that justice will be done - even though the odds are stacked impossibly against his client.
The casting of Preston in the title role is typical of this production in that there are no stereotypes.
In other productions I've seen sheriff Heck Tate has been portrayed as a rotund, blustering character similar to Boss Hogg in The Dukes of Hazzard. Here Stephen Casey gives us a more down-to-earth figure who is all the more believable when he manipulates the law for the good of everyone in the town of Maycomb.
Similarly, Calpurnia often appears as a big, jolly woman who could have come straight out of a Tom and Jerry cartoon. In Michael Buffong's production Andrea Harris is a young, plucky servant who because of her age seems to have more of a rapport with Atticus's children.
The mysterious Boo Radley can come across as a man from a simple background who is lacking social skills. Here Richard Heap gives us a frightened yet sane recluse who makes a conscious decision not to mix with the neighbours.
Heap also gives a fine interpretation of the role of Mr Gilmer the prosecuting counsel, smug and confident in the knowledge that he can't possibly lose his case.
There are also superb performances from Bettrys Jones, totally convincing as Atticus's young daughter Jean Louise; Sally Tatum as the sad, unloved, perjury-committing rape victim Mayella Ewell; and Ged McKenna as her bigoted father.
The piece is full of tension, particularly in the courtroom scenes and at the end. With its themes of bullying and racism, it could hardly be more relevant to today's audiences.
Occasionally you have to use concentration to imagine Craig Vye (Jem) and Jean-Marc Perret (Dill) as boys. And Simon Higlett's excellent design would work better on a bigger stage than the one at the Theatre Royal.
Generally, though, this Touring Consortium offering is on a par with many of its predecessors which I've commended for being quality productions with first-rate acting.
And many people may regard Duncan Preston in a new light: he's just as comfortable in straight roles as comedy.
"To Kill A Mockingbird" tours to Wimbledon, Cardiff and Edinburgh until 24th February
This production was reviewed by J D Atkinson in Leeds and David Chadderton in Salford
Reviewer: Steve Orme