To Kill a Mockingbird
Harper Lee, dramatised by Christopher Sergal
West Yorkshire Playhouse, Leeds
(2006)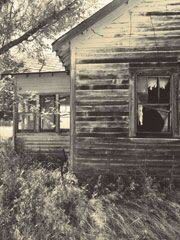 Harper Lee's To Kill a Mockingbird won her a Pulitzer Prize in 1961, is one of the best-loved novels of the twentieth century and one of the few books worthy of that tiresomely over-used soubriquet, "an instant classic". Yet Lee never wrote another novel and became something of a recluse, prompting rumours that Mockingbird may have been at least partly written by her friend Truman Capote (upon whom the character of Dill is based). Whatever the truth of the matter, Christopher Sergal's new stage version confirms the original's status as a masterpiece - and one whose message of tolerance is as relevant today as it was almost fifty years ago.
The play is set in a small, racially segregated town in the Southern states of America. It's 1935 and the Great Depression is taking its toll on the townsfolk, including widowed lawyer Atticus Finch (Duncan Preston) and his children Jem (Craig Vye) and Jean Louise, better known as Scout (Bettrys Jones). Atticus is called upon to defend a black farmhand Tom Robinson (Vinta Morgan) accused of raping a white woman, Mayella Ewell (Sally Tatum).
Jem and Scout have to suffer the taunts of their bigoted neighbours but find an unexpected ally in the prissy and eccentric Dill (Jean-Marc Perret), who shares their fascination with mysterious recluse Boo Radley (Richard Heap, who also plays prosecuting counsel Mr Gilmer). Courtroom drama, coming of age story and slice of American Gothic - it's a winning combination. Director Michael Buffong and a superb cast, headed by Duncan Preston as Atticus Finch, wring every last drop of emotion out Sergal's excellent new adaptation.
The casting of Preston, best known for his wonderful comic roles in Dinner Ladies and Acorn Antiques, may come as a surprise to those with fond memories of Gregory Peck in the film version of Mockingbird. But as the director points out, "Having a Hollywood superstar in the role put a whole new slant on the man. Peck in the film is a superman and Atticus, quite simply, isn't!" Preston's performance as the middle-aged, rumpled but quietly heroic lawyer is a revelation - and Buffong is to be congratulated on giving this fine actor a chance to demonstrate his versatility.
Buffong's decision to cast adult actors as the three children was a gamble that paid off in spades. The diminutive Bettrys Jones gives an astonishingly convincing performance as the twelve-year-old Scout, and although Vye and Perrett are a bit on the tall side for their alleged ages they never resort to the pseudo-childish mannerisms that so often mar roles of this kind.
The rest of the cast give equally committed performances. Although Tom Robinson has comparatively little to say, Vinta Morgan plays him with a calm dignity that allows him to dominate the tense courtroom scenes. Sally Tatum, in the role of Tom's accuser Mayella Ewell, makes her character's misery and bitterness almost palpable - she is every inch what Atticus describes her to be, "a victim of poverty and ignorance" brutalised by her drunken white-trash father (Ged McKenna). Stephen Casey (Heck Tate), Andrea Harris (Calpurnia) and Helen Ryan (Maudie Atkinson/Narrator) also give standout performances. All credit too to the work of dialect coach Sally Hague, although it has to be said that there are moments when the Southern accents are authentic to the point of incomprehensibility!
Sergal's To Kill a Mockingbird is not the first stage adaptation of the book and no doubt it will not be the last. But it's a gripping and thought-provoking piece of theatre, and without doubt one of the best touring productions of the year.
"To Kill a Mockingbird" is a co-production with the Birmingham Repertory Theatre Company, the Touring Consortium and Watershed Productions. At the West Yorkshire Playhouse until 7th October, then touring to Birmingham, Salford, Chichester, Cheltenham and Norwich.
David Chadderton reviewed this production at the Lowry, Salford Quays, and it was reviewed in 2007 by Steve Orme at the Theatre Royal, Nottingham
Reviewer: J. D. Atkinson