Modern American Drama: Playwriting in the 1940s
Edited by Felicia Hardison Londré
Methuen Drama
Released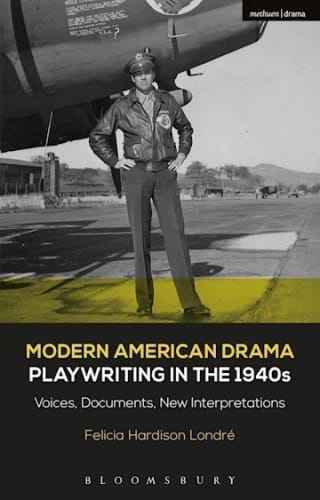 Felicia Hardison Londré struck lucky when she decided to specialise in theatre studies in the period covering the Second World War and the years beyond. There can be little doubt that the 1940s was a golden era for American drama that might never be surpassed. Where other editors in this series have struggled to select renowned playwrights to act as representatives, Ms Hardison Londré had the easiest task imaginable.
As she says in an afterword, "the major plays of Eugene O'Neill, Thornton Wilder, Tennessee Williams and Arthur Miller from the 1940s remain timeless classics of the American drama. These four writers were indeed the first truly great American dramatists, and few playwrights of later generations have risen to join their pantheon."
Pleasingly, not only is this editor fortunate but she has capitalised on the opportunity to deliver a text that is a pleasure to read throughout.
Following the required formula, she first offers a comprehensive social history of a tempestuous, war-torn decade and then follows it with an equally adept analysis of American theatrical trends. Readers will be surprised to learn about the volume of theatrical activity that continued through the early war years before Pearl Harbor and American involvement, but then also while the country was at war.
As well as the four great playwrights, others were also prospering. This was a particularly strong period for musicals with Rodgers and Hart/Hammerstein, Cole Porter, Irving Berlin, Gershwin and Kurt Weill all making their mark.
There were other significant productions such as the Paul Robeson Othello, which at least temporarily changed views about the play and its casting in ways that prefigured changes which were to return more powerfully in the current century.
In addition to the day jobs, performers made their contribution by entertaining the troops, at the same time as writers ignored the vicissitudes of the times, writing and tuning up some of the finest plays of the last century.
While the demarcation into decades can sometimes throw up anomalies or dubious inclusions, the chosen group of playwrights all hit the heights in the '40s. Being somewhat older, Eugene O'Neill had a head start on his peers as is demonstrated by a chapter written by Zander Brietzske, the highlights of which include The Iceman Cometh and Long Day's Journey into Night.
Felicia Hardison Londré writes about Thornton Wilder and somehow manages to fiddle Our Town in, although some might have seen it as more a play of the '30s, as well as The Skin of Our Teeth.
In particular, the two younger playwrights who were just beginning to make their mark did so in spectacular fashion. Thomas Keith writes about Tennessee Williams featuring not only unsuccessful early plays but also The Glass Menagerie, Summer and Smoke and a Streetcar Named Desire.
Finally, under the subtitle of The Individual and Social Responsibility, we learn about Arthur Miller from Valerri J Robinson, who is able to draw on All My Sons, Death of a Salesman and the Crucible, again thanks to a little time bending.
As a general rule, the Documents section of each book in this series has been worthy but not necessarily innovative. This time around, the editor has worked overtime to discover quirky but entertaining contributions. The first of these is literally a high school essay written by Ann Crisp, which presents a charming overview of life on the Great White Way in 1947. Inter alia, this is followed by an essay on collecting Eugene O'Neill books and memorabilia and an essay on the magical experience of acting in a university production alongside the great Helen Hayes.
While every book in this series has undoubted value, this delightful volume is almost certain to prove the best of the bunch.
Reviewer: Philip Fisher