Modern American Drama: Playwriting in the 1950s
Edited by Susan C W Abbotson
Methuen Drama
Released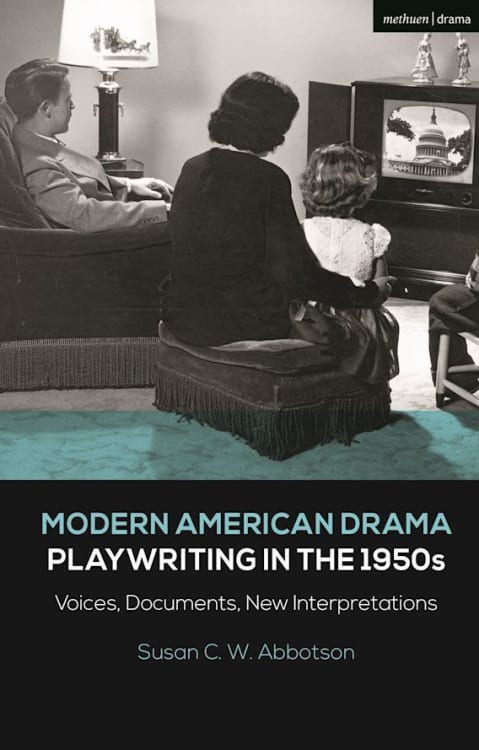 You have to feel for the editor of this volume in Methuen Drama's excellent American Decades series.
Susan C W Abbotson believes that the 1950s could be regarded as the strongest decade of all for the development of playwriting in the USA. However, one wonders whether even she is entirely convinced that it was stronger than the 10-year period before.
She has certainly drawn the short straw, in that the three best and most successful playwrights of the 1950s, Eugene O'Neill, Tennessee Williams and Arthur Miller, were all highlighted in the previous volume. As a result, Ms Abbotson has struggled to find a really satisfying quartet to encapsulate and represent the American theatre scene in a strange period.
As ever, the social history and theatrical overview are entertaining and informative, reminding readers of what life was like 70 years ago. Where the 1940s had a war to endure and then recover from and the 1960s had sexual liberation and freedom of expression, this was a decade characterised by galloping consumer consumption, political repression and genuine fear of imminent death as a result of the Cold War.
On stage, its greatest strength might well have lain in the golden age for musicals, with Rodgers and Hammerstein still powering on, along with many others, and the next generation beginning to take on the mantle. When it comes to the four chosen writers, the limitations imposed by the series editors, who very reasonably will not allow playwrights to appear in two volumes, lead to some surprises.
William Inge might have been the last member of a quartet had the top trio been permitted to appear. While his work is now largely forgotten, except for devotees of old movies such as Picnic and Bus Stop, both of which are featured in their stage versions, as the statistically obsessed editor points out, his plays enjoyed more Broadway performances in the 1950s than those of Williams.
As Ms Abbotson explains, this sad man who subsequently committed suicide and seemed to derive little joy from life built his writing career on depicting the experiences of unexceptional mid-Westerners enduring small-scale tragedies.
Stephen Sondheim is undoubtedly a giant of the New York theatre scene. That having been said, even he would not claim to have been a playwright. Indeed, in the 1950s, he was a young man beginning to make his way who had a couple of successes towards the end of the period writing lyrics for West Side Story and Gypsy. Therefore, his selection for this book could be regarded primarily as demonstrating the paucity of choice in what sounds like a relatively unexciting theatrical decade rather than anything more positive.
On the plus side, his inclusion allows Stuart Hecht to write an intelligent overview not only of Sondheim's work but also that of Jerome Robbins and Arthur Laurents together with expert analyses of the two big musicals.
While her experiences as an African-American writer are clearly of historical value, Alice Childress is another who would not have been recognised as a top writer at the time. Soyica Diggs-Colbert sets her life and work in perspective, showing that she was an important beacon for her community.
For a little variety, following a fashion that has now almost been forgotten, the final playwright is actually a duo: Jerome Lawrence and Robert E Lee. As Alan Woods shows, they enjoyed great acclaim particularly with Inherit the Wind and Auntie Mame, the latter turned into an even more successful musical. Woods has that rare knack of describing and explaining plays so well that you want to see them.
Pleasingly, as he notes, the best works of Jerome Lawrence and Robert E Lee remain popular today and have been filmed, so there may well be a chance for interested parties to catch them before too long.
Reviewer: Philip Fisher