Modern American Drama: Playwriting in the 1960s
Edited by Mike Sell
Methuen Drama
Released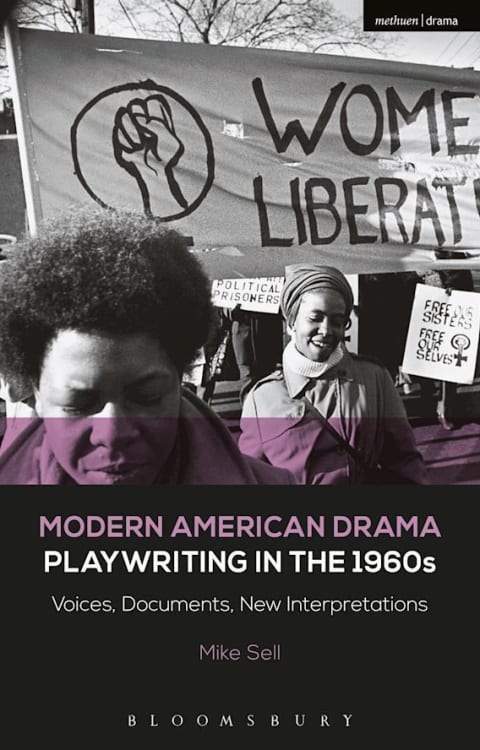 Anyone who casts their eye down the résumés of the contributors to this volume in the American Decade series will discover that almost all specialise in writing about avant-garde theatre. This preference becomes a guiding light in a volume that might reasonably have had that term included in the title.
Editor Mike Sell does a good job in his overview of developments in social life across the decade, identifying it as a period characterised by revolution, as the young sought to embrace sex, drugs and rock 'n' roll. It was also a time of political assassinations and unrest as the downtrodden sought to establish parity, including feminists and those from disadvantaged minorities.
When it comes to his overview of theatre, Sell is dismissive of the mainstream, paying little more than lip service to Broadway theatre and musicals more generally. That sets the tone for the rest of a volume that reaches extensively into the experimental and revolutionary in theatre, while almost blanking anything else.
To most readers, two pre-eminent American playwrights spring to mind when considering a decade where local writers' popularity often tended to pale into insignificance against their competitors from the other side of the Atlantic.
While Edward Albee is one of the four featured writers, thanks to his taste for the experimental, Neil Simon receives a note of weak acknowledgement but nothing more. That decision seems even stranger when Sell notes that there has been very little academic work carried out regarding such a significant playwright, meaning that this book has missed an opportunity to break new ground.
Helen Shaw writes well about Albee, particularly focusing on the difficult relationships with his adoptive parents and the ways that they appear in his work. In capably analysing the key plays of the period, inevitably Who's Afraid of Virginia Woolf? is identified not only as the major breakthrough that established the playwright as a great but also a piece that divided those seeking to prove that this was an example of experimental writing, rather than a work fitting easily with the realism that characterised most Broadway plays at the time.
Susan Stone-Lawrence tries to make sense of the most complex of personalities, exemplified by dual names. LeRoi Jones became Amiri Baraka, as his life and work change course. She summarises this nicely by dividing his life into four parts. The Beat Period, The Transitional Period, The Black Nationalist Period and The Third World Marxist Period, the first three all occurring during the 1960s. There is no question that Baraka was a fiery political animal. He was also quite possibly one of the four most prominent playwrights in the 1960s.
Although she was also African-American, Adrienne Kennedy was a quieter soul. Leonora Inez Brown takes readers through the writer's life and career. Although her work was experimental, because she was far less combative than many peers, the playwright achieved less popularity, failing to cross over into the mainstream while also lacking appeal for strident activists.
The final choice of Jean-Claude Van Itallie makes a big statement about the direction of this book. Despite the enthusiasm of Timothy Youker, who has written the chapter, many might wonder whether his subject even fits into the standard definition of a playwright. His strength was to work with Joseph Chaikin and Open Theatre compiling pieces devised by actors.
One of the pleasures of reading this series has been to discover what each editor understands by the requirement to include documents. In this case, the section starts with lists of award winners, many of them British, and then comprises a series of very brief soundbites setting out visions and manifestos from key figures.
The ones that make most sense are those provided by Albee, Ellen Stewart, the moving force behind LaMama etc, and Margo Jones, a relatively unsung heroine who created Theatre 47 in Dallas, Texas as an early player in the development of the creation of a large group of producing theatres outside New York, most of which thrive to this day.
The 1960s was an unusual and exciting decade by any measure. Anyone reading this book might also regard it as threatening both to the theatre and, at times, the man in the street. The good news is that it also paved the way for much good in terms of equality, theatrical invention and a far less formal way of viewing the world.
Reviewer: Philip Fisher