Modern American Drama: Playwriting in the 1980s
Edited by Sandra G. Shannon
Methuen Drama
Released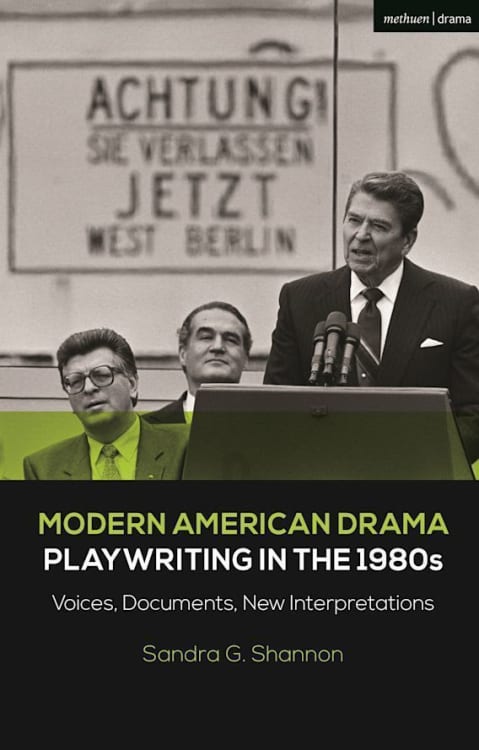 Many might argue that theatre rather lost its way in the 1960s and '70s but, as this volume attempts to demonstrate, thanks to the efforts of a diverse collection of outstanding playwrights, the medium began to recover in this decade.
The 1980s can be seen as the Reagan Era in the United States, with conspicuous consumption encouraged by a government pursuing policies that were designed to do as little as possible for an expanding underclass. However, that did not prevent minorities from attempting to assert themselves, particularly the LGBT community as AIDS began to ravage so many of its members.
In a digression from the model used by other editors in this series, Sandra G Shannon presents only relatively cursory and lightly researched overviews of American society and theatre, in both cases presenting chapters that might greatly have benefited from editorial oversight. On the plus side, this leaves more space for some excellent overviews and analyses of the work of the quartet of chosen playwrights.
Perhaps the greatest mark of David Mamet's achievements is the fact that, in a series which has been shy of celebrating the works of straight white men, especially those with alleged misogynistic tendencies, he cannot be left out of any celebration of 1980s American theatre. Nelson Pressley does Mamet proud, demonstrating a deep and highly researched knowledge of the man and his work both within and beyond the decade.
Indeed, in an attempt to present a rounded picture, a chapter that starts with one of the less popular works, Edmond, moves through a couple of plays that really hit the heights and also captured the spirit of an era when Mammon reigned supreme, Glengarry Glen Ross and Speed the Plow, before borrowing the highly controversial but ever-popular Oleanna from the early '90s.
David Henry Hwang is far more than an Asian-American playwright, as William C Boles makes clear when writing about both his early trilogy and major Broadway hit (grossing $35m.), M. Butterfly. Having established himself as a thoughtful playwright, like so many others, Hwang's interests ranged more widely, particularly as a librettist for both opera and musicals.
Gwendolyn Alker posits the idea that Maria Irene Fornès is, "perhaps the most influential American female dramatist of the twentieth century". That is a bold statement that many may find surprising, though the competition is somewhat limited, since women got such a raw deal through much of the period. As with so many other selections in this series, the Latina writer is one of those avant garde creators who will be an acquired taste, beloved by a relatively small but devoted following. Indeed, the summaries of three plays are limited by works that are rarely easy to interpret since so much was added by the writer in her secondary role as director, which was not well documented.
Sandra G Shannon coms into her own writing a well-researched chapter on August Wilson herself, focussing on three plays from the Century Cycle, Ma Rainey's Black Bottom, Fences and Joe Turner's Come and Gone. A mark of Wilson's enduring influence can be seen from the recent release of film versions of the first two of these. The documents section is also at its best when considering Wilson, featuring short extracts from some wide-ranging interviews. The additions for the other playwrights look lightweight by comparison.
Reviewer: Philip Fisher