Modern American Drama: Playwriting in the 1990s
Edited by Cheryl Black & Sharon Friedman
Methuen Drama
Released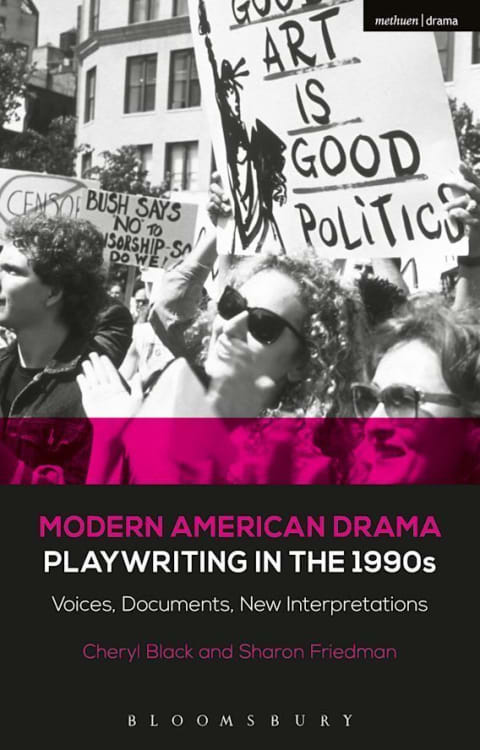 By the 1990s, after a few rocky decades, American theatre was beginning to show signs of real strength again. It may be entirely coincidental, but for most of the 10 years, Democratic President Bill Clinton was in office, trying to liberalise the nation when he was not succumbing to the charms of young females.
While Broadway had a tendency to be dominated by large-scale musical extravaganzas, some big-hitting playwrights were enjoying their heyday.
The story has been greatly helped by the efforts of superb joint editors. Not only have they managed to encapsulate the decade in their own writing but also selected impressively qualified experts to enthuse about the four chosen playwrights.
By the last decade of the millennium, what many would regard as the unjustified dominance of the straight white male and the WASP (White Anglo-Saxon Protestant) was long gone. Instead, four very worthy selections are split evenly between Roman Catholics and Jews, while the only representative who is not gay or lesbian is African-American and female to boot.
This must surely be a strong sign of progress towards diversity, which few in the entertainment world would find objectionable although, as the book shows, a strong Christian evangelical right wing might disagree.
After Cheryl Black's exemplary roundup of events in the nation, Sharon Friedman presents an equally perceptive overview of an American theatre scene beginning to fight back against bland, commercialised musicals and straight plays sold on the backs of TV and film stars rather than the playwrights themselves.
As cost rose, very little new work was developed straight for Broadway but off-Broadway and regional theatres were fighting their corner to good effect. The battle against AIDS continued, with scientists beginning to create medication that helped to alleviate the pain and extend lives. It also formed a backdrop for much of the best theatre of the period.
The first featured writer receives generous and knowledgeable treatment at the hands of John M Clum. Terrence McNally has always been prolific, often controversial and, though somewhat older than his peers in this volume, in works such as Lips Together, Teeth Apart, Love, Compassion, Valour and the controversial Corpus Christi had a wonderful gift of getting into the hearts and minds of the gay community, especially as AIDS was ripping it apart.
Joanna Mansbridge presents a wide-ranging portrait of Paula Vogel and particularly her keynote play, How I Learned to Drive. Anyone who has seen a piece that manages to treat paedophilia even-handedly but with humour, taking its audience on a terrifyingly realistic but insidious ride, will appreciate a detailed analysis of this and each of the other chosen works, as well as the background history of a highly influential teacher and mentor.
Addicts who thought that all of the best plays of the 20th century were written in the middle years cannot have seen Angels in America. Tony Kushner must have been the first choice to be pencilled in for this volume and the variety of his work is well presented by James Fisher, who not only puts Angels into perspective but also covers some adaptations of classics and Homebody / Kabul, which would still feel all too timely if revived in the late summer of 2021.
Kevin J Wetmore Jr has the difficult task of encapsulating the imagination and wide range of Suzan-Lori Parks's oeuvre, since she is arguably the most influential African-American playwright in recent times. While it is really necessary to see or at least read plays such as The Death of the Last Black Man in the Whole Entire World, he does at least convey something of the energy and impact that this writer's singular works have had and continue to have.
As always, the text is complemented by a series of documents, primarily interviews that help to illuminate different aspects of the writers' careers.
Reviewer: Philip Fisher