Modern British Playwriting - The 1950s
David Pattie
Methuen Drama
Released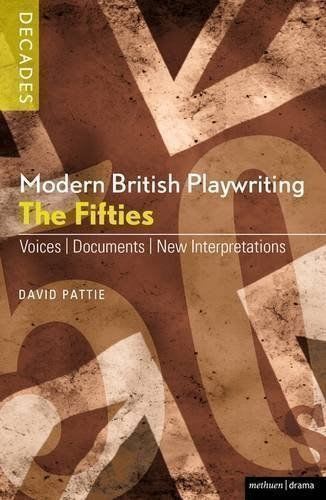 The latest book to be published in the Methuen Drama Decades series covers perhaps the seminal period in 20th century British drama.
If there was a pivotal year for British theatre in the last century, it was 1956 as Brecht, Beckett and John Osborne transformed Aunt Edna's comfy West End filled with domestic comedies into a much more dangerous and exciting place.
David Pattie, Professor of Drama at the University of Chester, follows the standard formula for this series.
He starts by putting theatre into context in post-war Britain with a look at both the country and its culture and society. It is chastening to recall that, even after rationing ceased, there are very few mod cons to brighten the lives of our equivalents in the 1950s.
His overview of theatre in the period from 1945 to 1960 is particularly illuminating. It is good to be reminded of the old West End ruled by Binky Beaumont and the way that this was slowly overtaken by overseas intruders such as Beckett and Brecht as well as the work going on under George Devine at the Royal Court and Joan Littlewood at Theatre Workshop in East London.
Four writers have been selected as representative of their decade, two from each side of the old / young divide.
These days, T S Eliot is far better known as a poet than a playwright but his verse dramas were popular fare in the early 1950s, as Sarah Bay-Cheng tells us.
Terence Rattigan is an archetype of the era and Pattie himself makes a very strong case for the view that the treatment which he received once young men got angry was unfair. In particular, The Winslow Boy, The Browning Version and The Deep Blue Sea are all seen as fine works with much greater depth than might have been appreciated at the time.
The late Luc Gilleman writes well about both the impact of John Osborne and his plays. It is also interesting to be reminded that, like every one of the selected quartet, this once-modish writer fell out of fashion all too soon, becoming deeply embittered as a result.
The other unexpected point that is well made relates to Look Back in Anger, always regarded as a completely radical change from anything that had gone before. In fact, the three act structure is absolutely traditional, though the behaviour of Jimmy Porter was not.
Finally, the best of these four portraits of writers comes in the form of John Bull's portrait of Arnold Wesker and his trilogy, Chicken Soup with Barley, Roots and I'm Talking about Jerusalem.
Bull writes far more clearly for the lay reader than his colleagues, several of whom appear to have axes to grind and theories to propound instead of telling us some of the simpler facts such as the plots of plays.
The book ends with a series of extracts from interviews carried out for the Theatre Archive Project and then an afterword looking at what happened to Rattigan, Osborne and Wesker beyond this era.
Reviewer: Philip Fisher