Modern British Playwriting - The 1970s
Chris Megson
Methuen Drama
Released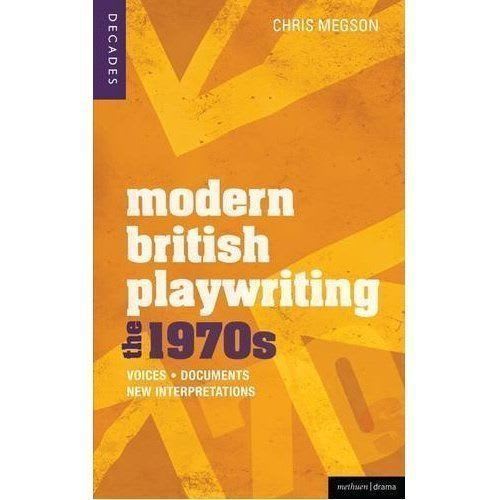 The 1970s joins The 1990s in the first phase of publication of this series commissioned by Methuen Drama under the collective title of "Decades". Four more volumes are to follow later in the year or possibly early in 2013.
This really was a strange decade both in theatre and the country more widely. Following the excitement of the 1960s and, in particular, the various uprisings in 1968, the decade that followed can be seen in retrospect as something of an anticlimax.
Revolution was in the air as far as many fringe theatre companies were concerned but the wider public did not ever really catch on. This means that the featured playwrights may have started the decade in tiny agitprop companies believing that they could change the world but, by the time of the accession of the future Lady Thatcher to the throne, they had "sold out" and joined the (left-wing) elite at theatres such as the Royal Court and the National.
Using the formula that has been set down by the series editors, the book first of all reminds us what life was like in the era of the three-day week, strikes and blackouts.
From there, Chris Megson provides a theatrical overview of the 1970s emphasising the radical political undercurrent that was apparently flowing through so much of the work across the country.
The structure changes slightly from The 1990s as there is a brief chapter from Megson introducing the chosen playwrights, Caryl Churchill, David Hare, Howard Brenton and David Edgar, before each gets profiled by a different biographer.
The work here is more even (and intelligible) than the publication covering the later period with Paola Botham majoring on Caryl Churchill's politics and fervour for feminism. Megson himself profiles David Hare, which proves to be fascinating since the founder of Portable Theatre and writer of Slag, Fanshen and Plenty is a very different man from the more mature, knighted playwright that we know so well as the millennium enters its second decade.
Series co-editor Richard Boon, perhaps rather egotistically, chooses to respond to his own 1991 book about Howard Brenton and Janelle Reinelt does a good job with Edgar in a period of flux for his career.
On this occasion, the Documents consist of interviews with the playwrights and other theatrical luminaries of the period together with some quotes, which to a degree help to shed light on the state of the art in this transitional decade.
Having seen the first two books in this worthwhile series, most readers, whether academic or general, will be enthusiastic to see their earlier and later siblings.
Reviewer: Philip Fisher