Mogadishu
Vivienne Franzmann
Manchester Royal Exchange production
Lyric, Hammersmith
(2011)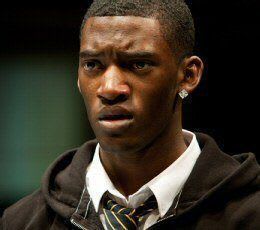 Jason Chambers is a teen gangsta, the kind of youth whose vocabulary is missing the word respect. When Malachi Kirby 's character assaults a geeky Turkish fellow pupil at his sink comprehensive and then a female teacher, the boy unleashes a hellish drama, written by former schoolteacher Vivienne Franzmann.
The story of Mogadishu is like a modernised and better-plotted version of The Children's Hour, also drawing themes from both Oleanna and Twelve Angry Men during a gripping 2½ hours that is by turns chilling and innocently funny.
Through the play, everyone touched by evil Jason's steely will is drawn into his web and suffers as a result, as will inevitably happen in such situations.
The obvious victim of the youngster's violence and mendacity is the teacher, Amanda, memorably played by Julia Ford, who catches the downward spiral from confidence to despair to perfection. The Scouse teacher is, though, a little too good to be true, with her sympathy for the hooligan going way beyond the call of duty, which is this fine play's Achilles heel, to the extent that it has one.
Amanda initially defends her attacker, even when he turns on her with accusations of racial abuse and assault. This eventually puts unbearable pressure on Amanda but also her Black husband Peter and her 14 year old Goth daughter Becky, given remarkable passion and intelligence by a highly talented Shannon Tarbet, consolidating the strong impression that she made on debut last year in Spur of the Moment.
The school's Acting Head, played by Ian Bartholomew, might naturally like to avoid conflict but in this politically correct era, has no choice but to watch disbelievingly as his colleague is threatened with legal action and the end of her career.
Fraser James as Jason's security guard father is a strange mix of the worn down and the belligerent, happy to support his son with the talents of a barrack room lawyer, while always suspicious that the lad is winding himself into a tissue of lies.
Best of all are Jason's gang, speaking street patois regardless of race and desperately trying to balance right with peer pressure and the desire to protect a friend, not to mention avoid his bullying. Of this group, Tendayi Jembere as slow Chuggsy is especially memorable.
While some of the plotting is overly contrived, Mogadishu (which gets nowhere near Somalia) raises a series of challenging moral issues and doesn't just take the easy way out.
As such, we are able to witness the pain of a good teacher driven to question the foundations by which she lives, while at the same time getting something of the experience of growing up in a school that is totally out of control.
Director Matthew Dunster does a wonderful job of keeping the pace up, within the symbolic cage that frames Tom Scutt's set in this award-winning transfer from Manchester's Royal Exchange. He also draws fine performances from a generally young but talented cast.
Mogadishu may not be perfect but Vivienne Franzmann has written a remarkable debut play and, with her ability to create situations for large casts, she seems set to be one of the brightest playwrights of the next generation.
David Chadderton reviewed this production in Manchester
Reviewer: Philip Fisher