Mojo Mickybo
Owen McCafferty
Arcola Theatre
(2007)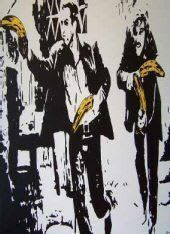 Given the historic meeting of Ian Paisley and Gerry Adams last weekend, the Arcola in association with Strawberry Vale Productions, could not have picked a more timely moment for their revival of Owen McCafferty's 1998 play. A child's-eye view of the troubles in 1970's Belfast, Mojo Mickybo, as a current production, is a reminder of how much progress has been made in Northern Ireland since the 1970s, but also demonstrates the traumas of the past, some of which are still felt today. But most importantly the play stands as a darkly humorous and sincere look at a universal story.
In a grubby whitewashed room with green go-faster stripes painted on the walls and orange pillars, two young boys - Martin Brody's Mojo and Benjamin Davies's Mickybo - lope their way through the imaginary world of cowboys, soldiers and adventures in Bolivia. But while most boys like to play at guns and gangs, for Mojo from 'up the road' and Mickybo from 'over the bridge', the games take on a sinister truth in a world they don't fully understand, where military presence is normal and superheroes can save them from bombs.
The script is permeated with violence but riddled with humour - Mojo's ma and da 'spit bullets', at one another and the next door neighbour who carries 'a knife as long as a monkey's arm' slashes any rogue footballs that appear in his backyard. It's an unsettling balance, and one of the many challenges the play presents to its cast, as well as having to shift seamlessly into over a dozen different roles.
But these challenges are tackled superbly by the two actors. Both Brody and Davies give off an energy that fills the Arcola's industrial space, and approach each individual character with a mix of gusto and sensitivity. Stripped bare of props and set, aside from two wooden chairs and Richard Williamson's subtle lighting design, the actors are left to their own infectious imaginations to drive the story, and succeed in conjuring up the colourful, fast-moving and threatening world of the two boys. McCafferty's layering of adults playing children playing adults also gives an interesting access point to the political context.
There are so many moments in this production which strike a chord, it is almost impossible to isolate its individual strengths. But perhaps the most important aspect is the script's contemporary relevance. Belfast aside, the notion of children from different religious or ethnic groups growing up side by side in divided countries is still a brutal reality in many parts of the world. And if theatre companies are bold enough to address such issues with compassion, humour and warmth, they deserve wholeheartedly to be heard.
Philip Fisher reviewed this production on its transfer to Trafalgar Studio 2
Reviewer: Lucy Ribchester