Mojo Mickybo
Owen McCafferty
Strawberry Vale production
Trafalgar Studios 2
(2007)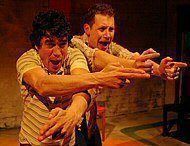 There is a great tradition of Irish two-handers with Enda Walsh's Disco Pigs and Marie Jones' Stones in His Pockets close relations to Mojo Mickybo, which is celebrating its 10th birthday as it is revived at Trafalgar Studios 2.
Like these comedy dramas, a pair of actors, Martin Brody as Mojo and Benjamin Davies as Mickybo, swap parts around with gay abandon so that one moment, they are playing mischievous little boys and the next a care-worn mother or father.
Owen McCafferty's play differs from the others in that it is set in Belfast rather than south of the border. Mojo and Mickybo first meet as nine-year-olds in 1970. It is no coincidence one feels, that Owen McCafferty is now 46, i.e. he would have been nine in 1970.
The first hour of the play affectionately introduces us to a pair of likely lads who model themselves first on Batman and Robin and then, after seeing the movie, on Butch Cassidy and the Sundance Kid.
They soon become firm friends, absolutely inseparable and constantly getting mixed up in fights, one of which is graphically demonstrated when a gang war convincingly gets out of hand, even with only two people on stage.
For an hour, we are taken back to the innocent pleasures of childhood, although problems begin to intrude as Mojo's dad disappears for too long while the boys enjoy ice-creams and the next thing that you know, Mojo and his mum are moving in with an auntie.
As was inevitable, given the time and location of this play, The Troubles eventually impinge on the lives of the friends.
The do so tragically in a way that ensures that Mojo and Mickybo become a dramatic metaphor representing the division of a benighted country that spent a century at war with itself.
The pace is maintained throughout the 70 minute playing time and the two actors work well together, although Davies could do with working on his Northern Irish accent a little more.
Owen McCafferty writes well, using poetic, slangy language and steeping us in the lives of his pint-sized heroes.
Strawberry Vale's production directed by Jonathan Humphreys is a perfect example of why Trafalgar's 100 seat smaller studio is such a West End boon. This production would never have made it to town from the Arcola without this space, and while it may not be perfect, it richly deserves this West End run.
Reviewer: Philip Fisher