Molière or the League of Hypocrites
Mikhail Bulgakov, in a translation by Michael Glenny
Finborough Theatre
(2009)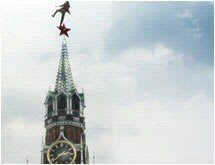 Like Arthur Miller in the Crucible, the author of Master and Margarita was actually addressing this portrait of the great French playwright Molière at a society several centuries and thousands of miles away from the throne of Louis XIV, The Sun King.
The League of the Holy Writ condemned Molière (and in particular Tartuffe) as Bulgakov's work was condemned by equally shady organisations under Stalin.
By writing Tartuffe, that witty but hard-hitting attack on the hypocritical clergy, the choleric Jean-Baptiste Poquelin, played with grim humour by Justin Avoth, formed an enmity with the King's Archbishop, the Marquis de Charron, which would eventually threaten his career and even his life.
This led to an unholy alliance between a piratical, eye-patched musketeer (Tom Davey looking uncannily like a refugee from Aerosmith) and the Archbishop, played by fresh-faced Ben Warwick who appears barely old enough to enter the pub downstairs, had the local authorities not closed it down.
They had plenty of ammunition with which to take on the writer. He was a ladies' man who double-dated his future wife and her "sister", whom it transpired was actually her mother, leaving the whiff of incest for the holy rollers to latch on to.
In two supporting roles, Paul Brendan added cynical humour, particularly as the King's cobbling Fool.
As so often at this compact venue, resident designer Alex Marker has created a solid-looking set that easily translates between Theatre, Court and Church. He gets great support from Penn O'Gara whose attractive costumes are fine enough to suggest that she must have broken her budget ten times over.
Blanche McIntyre, who blends modern acting sensibilities with the highly stylised mask-work, got this opportunity as first winner of the Leverhume Bursary for Emerging Theatre Directors. She is to be thanked for reviving a play not seen in London for quarter of a century.
We must hope that a larger venue sees this production and spreads the word more widely. Both Molière and Bulgakov are brilliant, writers and while the former is about to be celebrated in the West End with help from Martin Crimp and a starry cast led by Keira Knightley in The Misanthrope, both his star and that of his Russian stage biographer deserve to shine brightly.
Reviewer: Philip Fisher