Moment(o)s
Elaine Paton and the company
Elaine Paton
Seligman Studio, Chapter, Cardiff
–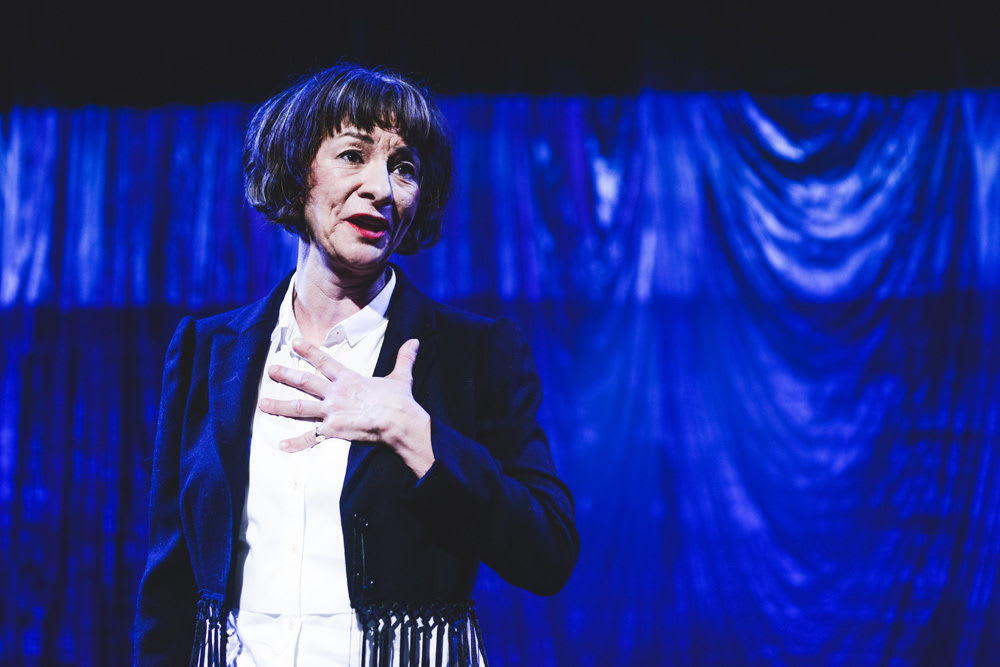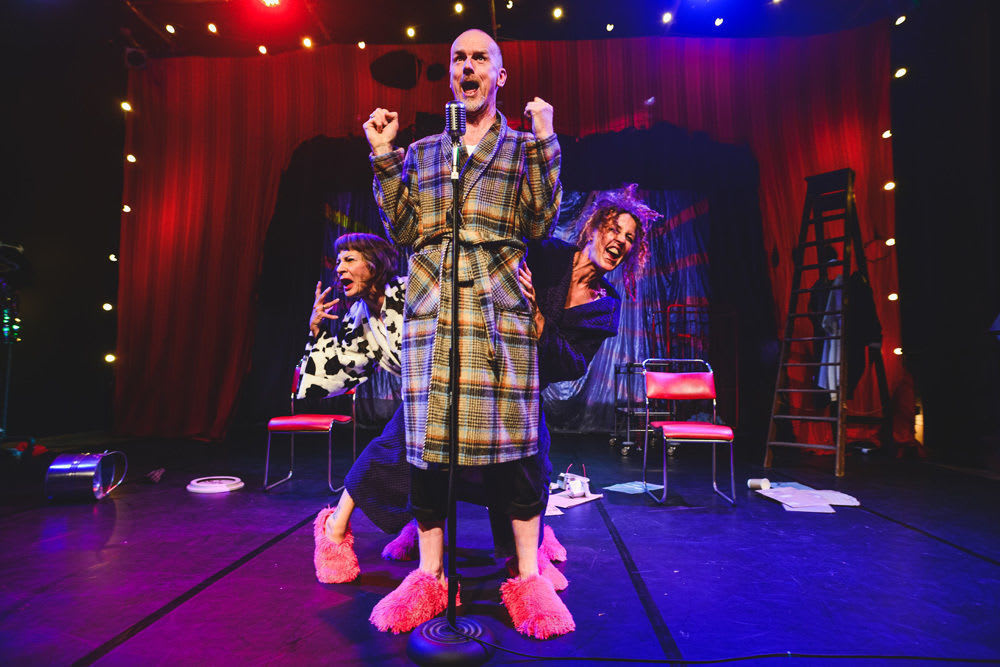 Elaine Paton is a Welsh-born performer and director who has spent much of her professional life in Australia. With Moment(o)s, she returns to the venue where she began her career, but with a performance which focusses on her personal struggles.
The current piece has evolved from a show which was performed at Cardiff's now-defunct Whitchurch Psychiatric Hospital in 2016, reflecting the experiences of patients, and the stigmas attached to mental illness.
Moment(o)s is an exploration of Paton's own story, rendered in the form of a cabaret-style entertainment, reshaped with the assistance of Gareth Clark and Marega Palser, a.k.a. local performance art luminaries Mr and Mrs Clark.
The audience assembled outside the small Seligman Studio is ushered into the performance area in ones and twos; some of us have the letter "S" stamped onto our hands. Once inside the space, we are confronted with a large screen showing old home movie footage. Paton prepares herself at the side of Caroline Jones's sparse, mobile set, near a clothes-rack; elsewhere we see a stepladder, whose horrific relevance is explained later.
Presently, the top-hat-sporting Clark introduces himself as the MC, with Palser the stage manager. Paton directly addresses the audience, telling us that her issues with mental ill-health began in the year 2000, when the death of her mother left her unable to cope with the most basic life tasks, including looking after her son.
Paton's densely poetic text describes the sensation of feeling as though one is drowning; a motif which is utilised in Simon Clode's video backdrop; later on in the show, vintage public domain footage of psychiatric patients is deployed, to chilling effect. Tic Ashfield's sound design is similarly unsettling.
Paton goes on to outline her subsequent experience of various treatments, with Clark and Palser joining her in darkly comical re-enactments and lurid re-imaginings. She also speaks, with an offhandedness which prompted pre-performance warnings, of several suicide attempts.
The tone of the piece is summed up by one of the songs provided by Clark: "Ten Ways To Kill Yourself (Without Leaving The House)". The others vary stylistically, from sincere acoustic guitar ballads, via the Rocky Horror styled "Shuffle Time" (featuring much use of the work "crazies"), to the raunchy rock tune which Paton sings following her release from hospital and an alarming make-over.
Moment(o)s is essentially a journey through a dark phase in a complicated life—difficult romantic relationships are hinted at, as is a family history of mental illness. We are reminded, via those of us whose hands were stamped, that such disorders will affect one in four of us.
The show ends on a positive note, however—Paton addressing us once again, quoting an insightful letter from her then-fourteen-year-old son, ridiculing the stigmatisation of psychiatric illness.
The piece provokes much audience laughter, some of it uneasy; and while the pace seems to flag at moments where the story-telling becomes visual rather than verbal, Moment(o)s is never less than arresting.
Reviewer: Othniel Smith