A Month in the Country
Adapted by Philip Wilson from the novel by J.L. Carr
Salisbury Playhouse
(2008)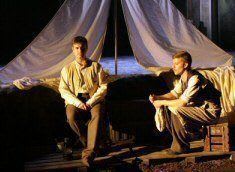 Almost every one of us has a direct personal link with the Great War, whether we realise it or not. Mine is John, the dark young man my mother lost while he was serving with the 11th Cheshire's, somewhere on the Somme, on 3rd July 1916.
Marking the 90th anniversary of the Armistice, Philip Wilson, Artistic Director of Salisbury Playhouse, is staging a premiere of his own stage adaptation of J.L Carr's story A Month in the Country, originally filmed in Simon Gray's version with Kenneth Brannagh and Colin Firth.
Wilson's account is loving and steeped in melancholy, altogether appropriate to the Act of Remembrance it commemorates.
On the director's admission, it is altogether darker than Gray's story, as indeed is that of Carr himself who years ago addressed schoolchildren when Wilson was among them.
Gone is the heat wave of Gray's account and there is less of the camaraderie between the two young men, newly met and working on the one hand at their separate tasks uncovering a "Doom" painting in the parish church and excavating relics in the Churchyard. They are also engaged upon the far more demanding task of recovering from shell shock after the hostilities.
This story concentrates on the community of Oxgodby - the irascible vicar, the Rev Mr Keach, crisply played by Robert Styles, together with his wife Alice on whom, it would seem, Birkin (Philip Cumbus) has unwisely set his sights.
Of course, there is much more to it than restoration and shell-shock. The "Doom" painting, we ought to know, is similar to that in St Thomas's Church, a stones throw from the Salisbury Playhouse. Hence Philip Wilson's decision to revive this work now, at this theatre.
Not to mention the coincidence of the Armistice anniversary.
Here, too, timing is important since the role of Carr's narrator is taken over by the character of Old Birkin, a beautifully-paced performance by James Clarkson, now aged and returning, shadow-like, to watch his younger self wending his way through life, struggling with the after-effects of warfare, and quite failing to confess his feelings to Alice Keach. Though, where, in those starched, post-war days of yore, we may well wonder, might that have got him?
One feels a sense of studied underplaying by the principal players, Old Birkin and Alice included, with rather more colour in the rural faces of the village around them.
Though one may sympathise with any director required to find a cast of twenty players, not to mention a last judgment scene, there are distractions in double casting such a key character as Alice.
Settings are nicely conjured by Matthew Wright's simple ladders and scaffolding with some colourful appearances by a selection of harmoniums.
In the beginning and at the end, however, this is a tribute to "The Fallen". Not as difficult to take as Sherriff's Journey's End, but extremely touching all the same.
The production continues at Salisbury Playhouse until Saturday 22nd November.
Reviewer: Kevin Catchpole