Monty Python's Spamalot
Book and lyrics by Eric Idle, music by John Du Prez and Eric Idle
Playhouse Theatre, London
From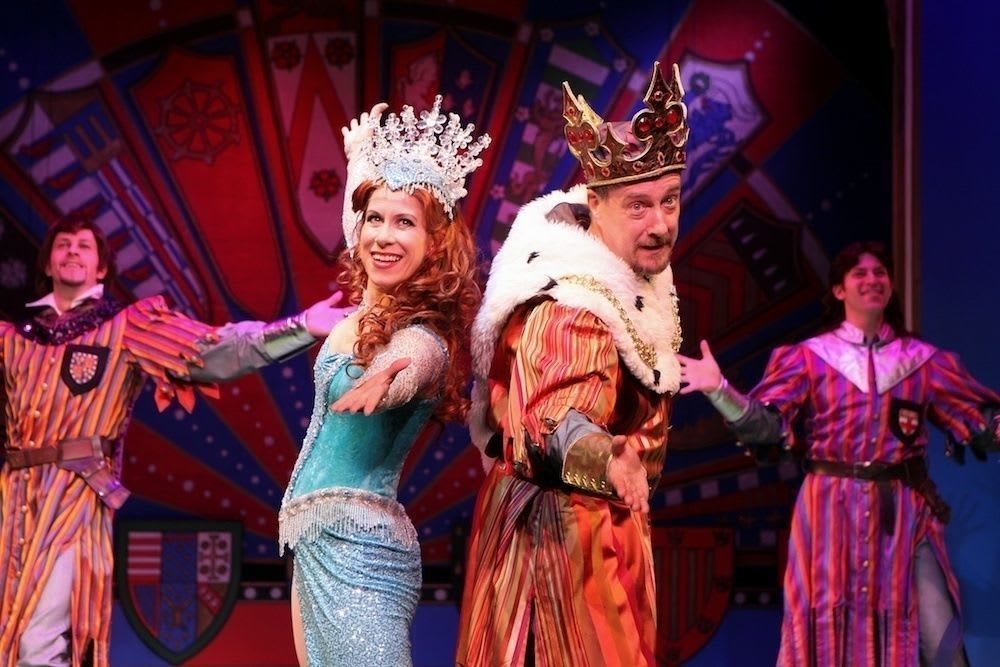 By combining the ever popular comedy of Monty Python (and get it into the title) with West End musical values, Eric Idle and John Du Prez co-created a massive hit with Spamalot all of half a dozen years ago under the impeccable direction of Mike Nichols.
Following success around the globe, the show has been touring the UK and it is that production which now finds itself back in the West End, fronted by small screen favourite Stephen Tompkinson.
This latest incarnation of a show based on the movie, Monty Python and the Holy Grail is severely cut in almost every way—even Anna-Jane Casey playing the gorgeous Lady of the Lake is about a foot shorter than Hannah Waddingham, who created the part in London, but still sings like a true star.
In a performance that now comes in at only two hours, big production numbers may be hoofed by as few as five performers and the set looks like a cardboard pop-up that might give way under minimal pressure.
However, despite the economies, there are enough funny moments, good songs and all round Pythonesque silliness to please fans of the 1970s TV phenomenon and even tempt newcomers to try out the experience.
The story is simple enough. King Arthur played by Tompkinson and his loyal Baldrick of a serf, Todd Carty's grubbily lovable Patsy, are enjoined to seek out the Holy Grail for reasons that are not entirely apparent.
This impossible task is hardly helped by his Knights of the Round Table who are the biggest bunch of cowardly losers any King had the misfortune to recruit, personified by Rob Delaney taking the part of Robin, whose weak bowels are far from ideal for such a noble profession.
Along the way, in addition to rabbits wooden and deadly, the brave Knights joust with singing corpses asserting that "I'm Not Dead Yet", obnoxious Frenchmen, a brave soul who loses limbs like they were going out of fashion and the unforgettable Knights Who Say "Ni".
They also satirise musical theatre with alacrity, which will appeal to West End aficionados, as well as delivering old Python songs and in particular the best of the lot, "Always Look on the Bright Side of Life".
There is an element of updated allusion in this new version directed by Christopher Luscombe including a new song that brings in the likes of Boris Johnson and Jedward into the mix, for better or worse.
This may not quite be Spamalot as we know it but audiences should still respond well to the jokes and the memory of Pythons past.
Reviewer: Philip Fisher