The Making of Moo
Nigel Dennis
Orange Tree Theatre, Richmond
(2009)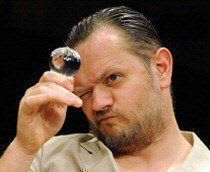 When it first opened at the Royal Court in 1957 with a cast including a trio of theatre legends, George Devine, John Osborne and Joan Plowright, The Making of Moo must have caused a stir, as had Osborne's own Look Back in Anger the year before.
Such is the play's power to offend that when esteemed Guardian critic Michael Billington attempted to stage it as a student at Oxford a couple of years later, it "made me a national scandal".
Judging by the opening night demographics 52 years later, it might be having a similar effect in post-Millennial Richmond. The normal audience was missing, replaced by a much younger crowd.
The accusation against any black comedy that takes organised religion as its central subject must be one of blasphemy. Indeed, on one level, Nigel Dennis's play might be seen as a shocking attack on all that we should hold dearest.
However, The Making of Moo does not question the nature of faith in one or more supreme beings but this wise, funny evening seeks to take on the holier than thou brigade, whether cultist, fundamentalist or merely blindly supportive.
Philip York is Frederick Compton, the kind of colonial businessman who succeeds despite being a bear of little brain. In an unnamed African country, he is feted as the architect of a dam that not only brings water but freedom from an oppressive river god, Agar.
As a parting gift, he decides to bequeath a new object of worship, Moo. With assistance from Amanda Royle as his wife Elizabeth and Duncan Wisbey's Donald, the upstanding Englishman creates not only the figure but a bible, revelations and a complete and rather chilling iconography, designed by Tim Meacock assisted by Robyn Wilson.
Act Two heralds a scene of religious pomp two years later, by which time Moo has caught on and even has its own, rather reluctant Pope William, formerly the couple's loyal old servant played by Ben Onwukwe.
The sacrifice of a couple of pedantic English lawyers is a bit rich but then these religious types need something to help them bond.
It certainly works, as a generation on, we witness the success of the religion through the eyes of a wealthy benefactor, James Woolley's Fosdick. He laps it up and is particularly impressed with Moo's long history, apparently stretching back into the Dark Ages. We are thus inevitably tempted to wonder whether this cultist approach could underlie some of the religions that are followed today with equal fervour.
Director Sam Walters is a man who has little time for religion and must therefore relish the opportunity to direct a play that questions the main tenets of some of our established versions.
Nigel Dennis injects much wit and a little feminism into his play but also asks the kinds of question that no priest of any type would feel comfortable in answering. The satire does, however, offer believers a great chance to re-evaluate and reassert their faith, while presenting the more dubious with a barrel load of ammunition to fuel their doubts.
The Making of Moo might be seen as a controversial choice for a theatre in leafy, affluent suburbia but all should make an effort to see the play, if only to be able to condemn it with full knowledge of what they might object to.
Reviewer: Philip Fisher