Moon on a Rainbow Shawl
Errol John
Cottesloe Theatre
–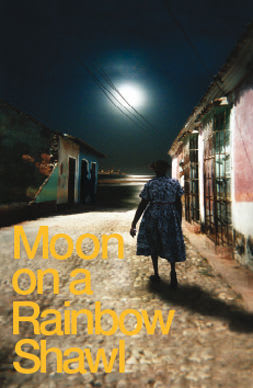 For some unknown reason, despite winning first prize in a new play competition set up by Kenneth Tynan and The Observer, apart from a brief revival at Stratford East in 1986, Moon on a Rainbow Shawl vanished from sight for a couple of generations after its Royal Court debut in 1958 and a Broadway appearance starring a young James Earl Jones exactly fifty years ago.
The work's long term disappearance from the repertoire is a mystery, as Errol John's writing still has the ability to move and shock a dozen years into the twenty-first century.
Talawa's new Artistic Director Michael Buffong has created an atmospheric revival, intimacy guaranteed by Soutra Gilmour's narrow, traverse set. We are instantly transported to a poor, ramshackle but colourful Trinidadian town soon after the Second World War.
The courtyard between four tiny homes is packed with drama almost from the off. The strong central figure is Sophia Adams, a matriarch supporting not only a bright daughter, Tahirah Sharif as Esther, and a baby son but also her dissolute husk of a husband Charlie.
Jude Akuwudike gives a touching performance as this loveable wastrel. While he garners little sympathy at first drunken sight, Charlie's backstory breathes nobility.
He had been a fast bowler good enough to represent the West Indies in the era of Constantine. However, given the choice between rebelling against racially-biased repression or knuckling under and touring with his country to England in 1928 with every chance of finding wealth, Charlie's pride led him to choose the former path.
Across the yard, we find contrasting next door neighbours, taciturn trolley bus driver Ephraim played by Danny Sapani seems like a good man. He plays with the children and loves Jade Anouka's pretty Rosa. He has competition, as her lonely boss Old Mack would like a piece of the action, though almost ancient enough to be her grandfather.
In the adjoining hut, Jenny Jules is cackling Mavis, a tart with a heart of stone, splitting her time between pleasuring GIs and Prince, a gold-toothed medallion man played wittily by Ray Emmet Brown, with whom she makes up a fine comic double act.
This well-constructed drama moves from pleasant comedy to harsh social realism almost in an instant as Old Mack is robbed, a pregnancy is revealed and Esther potentially denied a future while men and women betray each other with sad regularity.
Where Errol John could easily have slipped over into melodrama, he avoids the temptation, leaving the audience to contemplate a symbolically bleak future for almost everyone in the neighbourhood.
This production is distinguished by good acting with Martina Laird particularly memorable in the role of the tough but vulnerable Sophia, the West Indies' own Mother Courage ploughing on through a bleak life marked by constant reminders of disappointment and compromise.
Moon on a Rainbow Shawl may well be fuelled by semi-autobiographical reflections and works well as a small scale play about dirt poor colonials. However, its real value lies in the social commentary about man's inhumanity to man and the ways in which we can effortlessly condemn our fellows to lives of penury and distress. As such, it seems as fresh today as it must have been half a century ago.
Reviewer: Philip Fisher