A Moon for the Misbegotten
Eugene O'Neill
Old Vic
(2006)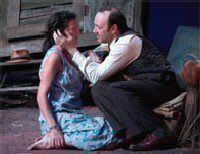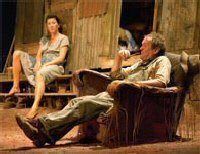 Legend has it that Kevin Spacey fell in love with the Old Vic while acting in a Eugene O'Neill play directed by Howard Davies. A lot of Londoners were certainly entranced by the Hollywood star when he appeared in The Iceman Cometh, both at the Almeida and on its transfer south of the river.
He is now the Artistic Director and it is a delight to report that following a hard two years, which started in the worst possible way with the unspeakably inappropriate Cloaca, the O'Neill/Davies partnership should bring him the greatest plaudits yet.
There may be a cost. To date, Spacey appearances have regularly saved questionable evenings as he upstaged his colleagues. On the opening night of A Moon for the Misbegotten, the star was outshone by his leading lady, who got the loudest cheers and applause of all, as the curtain fell.
That should not embarrass Mr S who gives a memorable performance but has last year's Critics' Circle Best Actress Eve (Simply the) Best to compete with.
These two receive great support from Irish actor Colm Meaney who, in less august company, would be getting rave notices.
The scene in rural Connecticut in 1923 is nicely set by designer Bob Crowley who gives the dirt-poor Irish-American immigrant Hogan family a ramshackle, patchwork shed of a farmhouse with the deepest of blue skies offsetting it and suggesting distant hope.
These are drinking folk living at subsistence levels and while father Phil Hogan (Meaney) is in a bar, his capable daughter Josie (Miss Best) packs off a third brother to a better life in the city, complete with dad's savings.
The expected eruption never really materialises because, however much they bluster and threaten each other, the pair are similar and have a mutual love and respect.
The domestic crises are brought to a head by the arrival of Broadway actor turned professional drinker Jim Tyrone (Spacey). He has dual roles as landlord and suitor, ignoring Josie's reputation as a tart, her protestations of unattractiveness and her less than polished ways.
The hour before the interval sets this up and the two afterwards show how Jim and Josie need each other for inner peace but possibly not for life.
There is one scene with him raging and her crying that would win an annual award for the most dramatic and moving minute on a West End stage, were there one. These two actors offer much more, giving their characters real depth and personality as well as illuminating a deeply complex relationship between two bold but insecure people.
This is a long play about ordinary people who have humanity and dignity, if little else. With Spacey in top wise-cracking form, bringing to mind Walter Matthau, and Eve Best making Josie both tough and vulnerable, Howard Davies and his team deserve to have a major success on their hands.
Reviewer: Philip Fisher