More Light
Bryony Lavery
Arcola Theatre
(2009)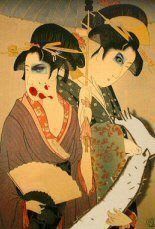 More Light is an example of that rare genre, the cannibalism comedy. The play was apparently inspired by the Chinese Warrior exhibition that brought in armies of culture vultures to the British Museum last year.
It is set in the tomb of a well-prepared Emperor who for some reason, though never seen, sounds exactly like a Dalek.
As death approaches, the old man prepares himself, entombing not only his own carcass but an army cast in bronze (not terracotta), his finest courtiers and seven infertile, young wives.
Led by More Light, played by tyro director, Catrina Lear, the immaculately-costumed girls occupy a beautiful chamber. This is illuminated by red lanterns with golden doors (last seen in the National Theatre's production of Oedipus starring Ralph Fiennes) and sarcophagus, much to the credit of a designer not named in the programme but in fact the talented team of Jasper Britton and Miss Lear.
As More Light narrates their sad story, the wives who have concubine names like Love Mouth, Playful Kitten and Pure Joy mime in ensemble unison, bringing the occasional wry smile to the face. When they get hungry, what could be more sensible than to eat the man who put them there, followed by a stream of others?
The seven seem happy enough, though life changes a little when a live convict appears and almost seduces the heroine, prior to becoming dead meat.
Written by distinguished playwright, Bryony Lavery, the show lasts an hour but feels like much more, as its point is never apparent. Is it merely a silly comedy or has some deeper, possibly feminist revenge, meaning passed this reviewer by?
Either way, the highlight is undoubtedly the design and its accompanying soundscape, also unattributed.
Reviewer: Philip Fisher