Morning
Simon Stephens
Lyric Young Company
Lyric Hammersmith
–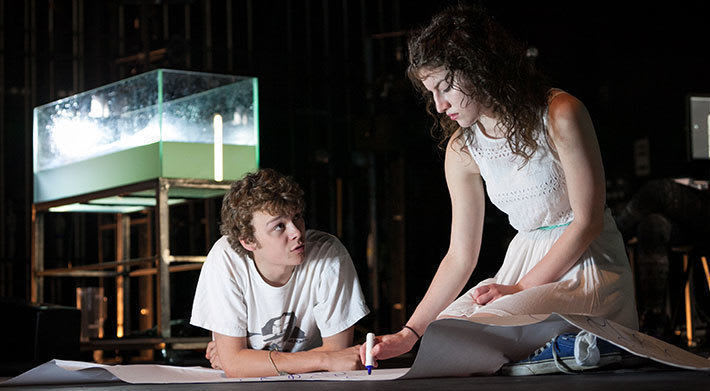 It could be said that any play opening with thumping dub step and featuring an alarmingly good looking 17-year-old boy singing Wiz Khalifa has a young audience in mind. After all, that sentence alone will be as baffling to a certain age group as to anybody under 20 trying to read it in Latin.
Fresh from this year's Edinburgh festival, Simon Stephens's newest and arguable most youthful play yet, Morning will be calling the Lyric Hammersmith home for an 18 night run in the city.
It's a perfect venue. The Lyric has now firmly cemented itself as a theatre that welcomes, and in doing so attracts, the young audience Morning pines for. What's more, it has played host to some of the most talked about theatrical ventures of the past few years. Revivals of Kane's controversial Blasted and Bond's once-banned Saved both enjoyed a successful run here in 2010 and 2011 respectively; with such a recognisable and respected name, Stephens looks set to do the same.
17-year-old Stephanie (Scarlet Billham) idolises her friend Cat (Joana Nastari), who has the sex appeal and confidence that Stephanie can merely imitate. As the play opens, Cat is set to move away to University later in the week, much to Stephanie's anguish. Her plea is rejected, Stephanie turns her attention to her doting boyfriend Stephen (Ted Reilly), addressing him with an unsettling combination of taunts, jibes and cruel dismissal.
Though the audience discovers early on that waiting at home is her dying mother and dependent younger brother Alex (Myles Westman), it is not until the girls lure Stephen into the woods with a special proposal that the real severity of Stephanie's psychological issues come to light. Morning explores the oft-broached topics of teenage-hood and friendship with the harsher themes of psychosis, loss, guilt, and the weight of each on young shoulders.
Press night nerves have the ability to throw off theatrical veterans, so it's no surprise that a clumsy falter or two slipped through the net on the night. And though Stephens's new play didn't disappoint, Billham's portrayal of Stephanie did slightly. It may well have been an off-night for Billham, but playing on my mind through the latter half of the play was a concern about her portraying a mentally unstable person unconvincingly. Perhaps an overly moral stance and it is merely a portrayal, and an intentionally abstract one at that. But an uncomfortable feeling can't be shaken easily once it is settled, and it was strong enough to mar the rest of the performance.
However, special mention should go Michael Czepiel as a music technician who creates the show's music live on stage. An unexpected highlight, he sits at his own desk, complete with computer and equipment, and watches the show as neither an audience or a cast member, instead providing a curious combination of the two.
He is joined by an impressive group of well-cast young actors. Joana Nastari and Ted Reilly (the latter of which reminds of a young Jack O'Connell) were both clearly comfortable in the performances they had given. Admirable for actors still so early in their careers; I think they both will go far.
Stephens's past works have never been crowd pleasers, and Morning certainly doesn't break from the tradition. It may not have brought the roof down, and it probably will not go down in history. But while for some it will miss the mark completely, for others it will ignite discussions, arguments, questions and an intriguing thought process. And these are the things, if nothing else, that make theatre so enjoyable in the first place. 
Reviewer: Grace Holliday