Saved
Edward Bond
Lyric, Hammersmith
(2011)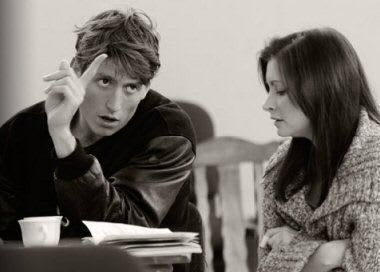 Since taking over as Artistic Director at the Lyric, Sean Holmes has shown a serious intent to rattle and quite possibly offend the good people of West London.
Saved could readily be seen as the 1960s equivalent to Sarah Kane's notorious Blasted, which was revived at the theatre last year. It is legendary for a murderous scene that will shock viewers to an even greater extent than anything in the late Ms Kane's In Yer Face oeuvre.
The question that many will ask themselves having seen this rarely produced drama is whether it is merely controversial or a great play as well?
First seen at the Royal Court in 1965, much of Saved's 3¼ hours seems devoted to drearily realistic kitchen sink theatre depicting a dysfunctional South London working-class family imploding. They do so in a large, empty playing space on to which designer Paul Wills has props carried by the actors and stage hands, presumably as a welcome reminder that what we are watching is only a play.
What is to follow is far from apparent from the opening scene in which Morgan Watkins as Len attempts to bed (more accurately "sofa") Lia Saville's pretty but uncaring Pam. It is rare to see a love scene more lacking in passion and this sets the tone for an evening that explores soulnessness in intricate detail.
While Len is thoroughly devoted to his lady love, she quickly loses interest. This is unfortunate since he has already moved into the family home. In no time, Len is closer than their own daughter to the older generation, Harry and Mary played by Michael Feast and Susan Brown.
Pam has fallen head over heels for Fred, played by Calum Callaghan, who, having left her pregnant, ceases to have any reciprocal feeling.
The pivotal pre-curtain scene is the one that offended not only the censor but large numbers of audience members when Pam's baby was used by a bunch of unruly youths as their disposable plaything.
Strangely, after the interval the family battles that take place become much funnier, though inevitably in a bleak, black fashion and Edward Bond cleverly drops allusive references to earlier scenes into the text, giving the play greater depth and interest than might otherwise have been the case.
He also subscribes to a Wordsworthian principle, as we discover that the quasi-son is father to the man and the daughter mother to the woman, suggesting an authorial belief that nature is at least as significant as nurture in creating loud, sexually active women and quiet, bitter partners.
There is no doubt that some of the acting in Sean Holmes' production is exceptional, with Michael Feast in the vanguard meticulously portraying henpecked Harry but closely followed by Morgan Watkins and the two leading ladies.
While Saved is worth seeing both as a piece of theatre history and its ability to shine a Mike Leigh-style light on inarticulate, deprived lives, it makes for grim viewing.
In case anyone believes that Mr Holmes is committed to nothing about shockers, the next production at this lovely, redesigned Matcham Theatre is the annual panto, Aladdin, and there is no suggestion that he is planning a Theatre of Cruelty version.
Reviewer: Philip Fisher