Mother Courage And Her Children
Bertolt Brecht
National Theatre Wales
Merthyr Labour Club
–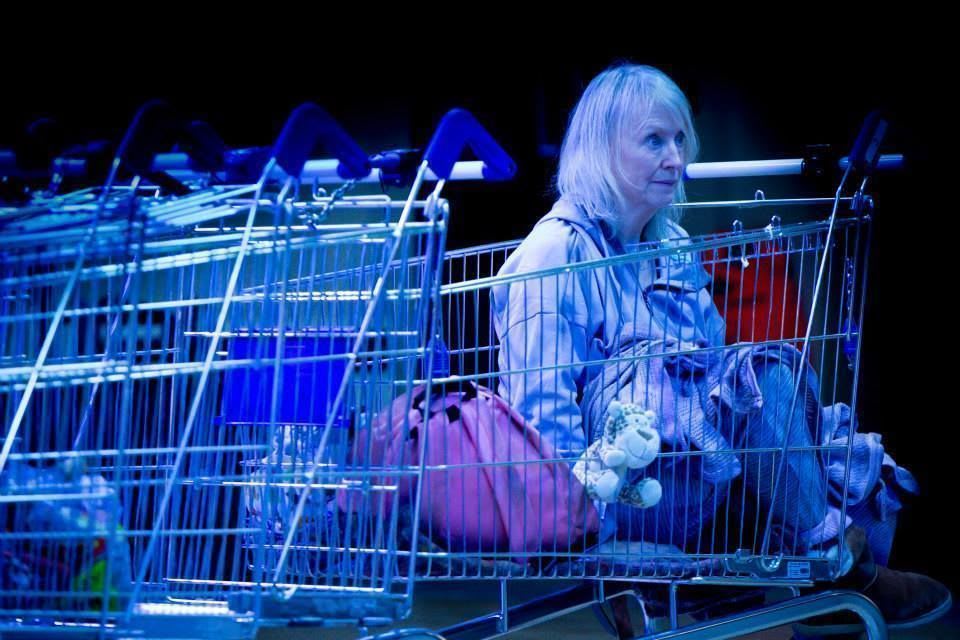 As is well known, many of Bertolt Brecht's plays were explicitly didactic works, designed to be performed by non-professionals in venues with which his working-class audiences would be familiar.
It seems fitting, then, that National Theatre Wales brings this, the first production of its fifth season, to the somewhat utilitarian Labour Club in what was once Wales's largest town.
The action takes place in the Club's spacious hall. On entering we find ourselves in the midst of a karaoke night, and find familiar actresses loitering at the bar and bidding us take our seats.
When, abruptly (perhaps a little too abruptly), the drama commences, the song-lyrics on the numerous video-screens are replaced with stage-directions; we are told that we are in the midst of the Thirty Years War (1618-1648, for fellow ignorami), and are introduced to the central protagonist.
Mother Courage makes a living toting her cart around battlefields, selling food and drink to soldiers, aiming to make a profit whilst hoping to keep her three children safe. Thus, far from being a hapless victim of war, she is seen to benefit from it, or at least make the best of a bad job, even as the unavoidable tragedies strike.
Director John McGrath's decision to employ a remarkably strong, all-female cast is a shrewd one. It confronts us with theatrical artifice, with women playing the most masculine of men, their skill ensuring that the characters remain relatable, if inevitably unlikeable.
Rhian Morgan plays Mother Courage as a recognisably rough-and-ready, selectively affectionate Valleys Mam. Eiry Thomas convincingly adopts the most unpleasant of male characteristics as her thuggish son Eilif; Sharon Morgan is affecting throughout as Kattrin, the tragic mute daughter; Cathy Owen provides comic relief as Swiss Cheese, the idiot middle child.
Donna Edwards scores highly as Yvette, the vivacious lady of easy virtue who seems to prosper somewhat less problematically than Mother Courage. Ri Richards, as the cowardly chaplain, Sara McGaughey, the Cook who has his eyes on the heroine, Gaynor Morgan Rees as the general, and Nicola Reynolds as a variety of thugs round out the talented ensemble.
This production marks the return to theatre of adaptor Ed Thomas, author of a number of Brecht-influenced plays, who has more recently made a success in television. His text retains the period feel of the John Willett translation, but is fluent, funny and gleefully sprinked with Valleys profanity.
The inevitable songs, adapted by Thomas with Dafydd James, cover a number of styles, from country to Euro-pop balladry, becoming more typically Brechtian as the piece progresses, but mercifully tuneful. Members of the chorus, recruited locally, are seated amongst the audience; a tactic which is clever, if a little startling.
The tone of the piece seems uncertain at first, but it is anchored by the assured nature of the performances. The design is basic, but effective; in modern dress, with Mother Courage's cart played by an assemblage of shopping-trolleys.
Video screens around the room display images which reflect the action (e.g. cookery shows when food is being discussed, film noir at moments of intrigue, Jeremy Kyle during family dramas). And the sound effects conveying bombardment are suitably chilling.
The mood changes post-interval—the space is less cluttered, so there is more room for movement; and Mother Courage celebrates Peace with a Shirley Bassey moment. This is a brief, optimistic interlude, however; the horrors resume, and we find ourselves hustled outside for a highly dramatic climax.
While Brecht wrote Mother Courage And Her Children as a response to the rise of the Nazi war machine, it is not easy to draw precise political parallels. The broad point appears to be that whatever the motivations of conflict (religious, economic, territorial), those who are doing well continue to prosper, and the oppressed remain oppressed.
Mother Courage symbolises the indomitability of the human spirit. Both she and this production are worthy of admiration rather than unconditional love.
Reviewer: Othniel Smith