Motherland
Steve Gilroy
Live Theatre and The Empty Space
Tristan Bates Theatre
(2009)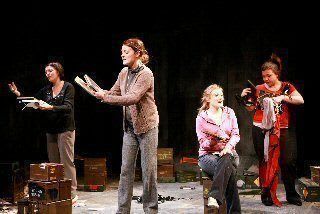 This beautifully acted verbatim piece offers glimpses into the women left behind by British servicemen and women in Iraq and Afghanistan. The dialogue is taken from real interviews and woven together into a cohesive and compelling whole.
Four spoons are stirred in unison in four teacups, echoing sharply off a bleak set of metal walls and ammunition boxes. Four actresses play all sixteen women, switching effortlessly between characters and stories. All are excellent, but Helen Embleton is outstanding, in particular as Pat, the mother of a Military Policeman killed in Iraq.
The aching emotion repeated in the mothers' stories that they weren't there to protect their children when they needed them is devastating to watch, but there is nothing voyeuristic here; just the intimacy of real conversations in real kitchens. The audience is not merely drawn into the relationships with their family members in the forces, but their family lives as a whole. A 60 year old woman refers to her autocratic 89 year old mother; the tricky complexity of another, very different, mother-daughter relationship is also evident when they speak in tandem; the best friends who finish each other's sentences and do everything, including falling in love with soldiers, together. The key to this very personal piece is not what these women have in common with each other, but what they have in common with all of us. As they argue the rights and wrongs surrounding the war, their personal scars and disillusionment are those of the national psyche. There are flashes of stoic humour though, such as referring to Blair and Bush as two "weapons of mass destruction".
Steve Gilroy's production uses several devices alongside its storytelling heart; video media, a tape recording of one of the real interviews and a microphone pointed at dumbstruck audience members by one character. The combination of these sometimes seems messy, though the image of the fluttering lace curtain on which the show ends is a nice touch.
Heartbreakingly honest but unsentimental, Motherland is a moving and insightful piece of theatre.
Peter Lathan reviewed the original 2007 at Live Theatre and David Chadderton reviewed this production in Manchester.
Reviewer: Beth O'Brien