Motortown
Simon Stephens
Royal Court Theatre Downstairs
(2006)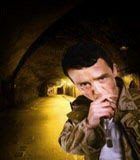 Royal Court habitués may well get two doses of déjà vu when they see Motortown, the latest play from the prolific Simon Stephens. First, the star is Daniel Mays, who coincidentally also took the honours in the theatre's previous main stage production, Jez Butterworth's The Winterling, which closed less than a fortnight ago.
Those with slightly longer memories will find that this play, with overtones of Mamet's Edmond and Büchner's Woyzeck, bears remarkable similarities to David Eldridge's Incomplete and Random Acts of Kindness, in structure, subject matter and protagonist.
Mays' Danny, wearing the ubiquitous Essex-boy Hackett shirt, has been freshly discharged from the army after service in "boring" Basra. He is onstage throughout the hundred or so minutes, confronting both his old patch in Dagenham and his own newly-acquired demons.
Initially, he meets his retarded, mildly autistic brother Lee (Tom Fisher) who generously puts him up and warns him off a visit to the girlfriend who is trying to forget him. Daniela Denby-Ashe is Marley and whatever their history may have been, she is clear that she wants nothing more to do with Danny and will even go to the lengths of getting an injunction to achieve that goal.
Already, the seemingly hard Danny is beginning to crack up and his next two scenes are with a man who sells him a replica pistol and another, more dangerous, who doctors it to take real bullets. The latter also introduces the sexually immature former squaddie to young Jade, his 14-year-old kept girl.
Up to this point, not all that much has happened but Stephens is just warming up his audience for the fireworks that Danny later claims to sell.
In the longest and most shocking scene, Danny takes Jade to an isolated spot and begins to relive some of his War experiences using her to act as a surrogate for the Iraqis that he did not have the courage to torture. This is strong stuff, especially as both Mays and Oni Uhiara as Jade play their parts with tremendous conviction.
This scene also encapsulates the purpose of the play, a view of the impact of the Gulf War on a British combatant and obliquely the Iraqis that he encounters, rather that the more usually seen American, Private Lynndie England, subject of two plays on last year's Edinburgh Fringe.
Next, Danny meets a pair of swingers who nearly push him back over the edge and the play then winds down in a scene where Danny tries to pass off his Gulf War Syndrome-induced madness as just one of those things.
Like One Minute, his 2004 play at The Bush, Motortown is determinedly untheatrical. The staging portrays the events in a theatre rehearsal space in which the scene changes are carefully choreographed, possibly to replicate army monotony and discipline.
As in Incomplete and Random Acts of Kindness we get a series of glimpses at a psychopath that, when put together, are intended to make up far more than the sum of their parts. To an extent, this is a case of smoke and mirrors but the portrayal of a war veteran struggling to come to terms with the horrors of Basra and the difficult return to normality is at its best repulsive and compulsive viewing.
Reviewer: Philip Fisher