Movin' Out
Conceived by Twyla Tharp, Music and Lyrics by Billy Joel
Apollo Victoria
(2006)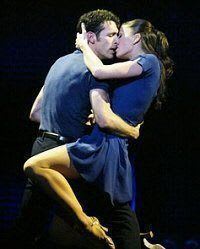 The first major American transfer of many this year is a thrilling dance piece orchestrated to a selection of Billy Joel's Greatest Hits.
A big, loud band is suspended above the stage, thrashing out Joel songs with enthusiasm. At this performance, they were led by Darren Reeves, the understudy Pianoman, effectively the Billy Joel surrogate.
Not always actually playing the piano, his role is basically lead vocalist. Possibly because of a throat problem, Reeves didn't often give full power to his singing until well into the second half of the two-hour performance when he came into his own with Pressure. Billy Joel is a blue collar pop star who has a lot in common with Bruce Springsteen and his representative on stage also lacked some of the vocal grittiness that has made both men so popular.
The musical stars are undoubtedly Richard Pardy who plays a mean saxophone and musical director Dennis Delgaudio who plays lead guitar and also helped out with the vocal high notes.
The band produces the music to accompany Twyla Tharp's lively choreography, which, with the exception of a twenty minute interval, barely takes a breath through 24 separate sets. The only criticism might be that without reading the synopsis in the very large and expensive programme, it can be hard to follow the narrative thread.
Put simply though, two-and-half couples struggle to come to terms with life, drugs and Vietnam in the Sixties. Brenda and Eddie, a seemingly perfect pairing, break up in a poignant opening; James and Judy seemed destined for eternal happiness until he gets conscripted and loses his life, leaving Laura Costa Chaud to perform a very moving widow-dance; Brenda hooks up with quiet Tony (David Gomez) while seemingly always yearning for Eddie; and pretty much everybody gets to a happy ending in a crescendo of colour and high-volume action.
Little of this matters too much when confronted with a lively and vibrant production that doesn't overstay its welcome. So often, producers feel an obligation to provide three hours of entertainment where there is only material for two, inevitably creating uneven evenings. Here, Billy Joel's songbook, together with extra orchestration to allow the dancers to show off their prowess, is exactly right for the time allotted.
There is far more to Movin' Out than some other shows that are merely a cheap (or not so cheap) rehash of a popular singer's career highlights. The music is brash and seductive and choreographer, Twyla Tharp has worked a modern dance piece around it using Joel's themes to tell a story and allow a really talented team of dancers to show off.
The evening is founded on three key parts and it is to the great credit of Canadian understudy Cody Green that his Eddie was a sensation. He is never better than in a series of solos after the interval, when he whirls like a dervish, leaps like a stag and surely demonstrates that he is a star in the making.
Green is a good match for female lead Holly Cruikshank as Brenda. By some way, this long legged beauty is the tallest person on stage, including all of the men. The athletic Amazon must be as tall as Leigh Zimmerman, who wore the most flattering costumes and towered over the original London production of The Producers to similar smouldering effect. This makes sense since Joel is at least six inches shorter than his original Uptown Girl, model Christie Brinkley, as is apparent from the video.
Miss Cruikshank dances energetically and meaningfully in a fine and unforgettable performance as a woman who goes to hell and back. This is most apparent in the show's best and most colourful scene played out to Joel's anthemic "We Didn't Start the Fire".
She could hardly contrast more with Brazilian Laura Costa Chaud, a head, shoulders and then some shorter but an equally accomplished dancer in a very different style.
Movin' Out is great fun and will particularly appeal to fans of dance or Billy Joel. The constant activity and high quality choreography complement music that will be familiar to most visitors and the show deserves to be as successful in London as it was in New York.
Visit our sponsor 1st 4 London Theatre to book tickets for Movin' Out.
Reviewer: Philip Fisher